The CU Board of Regents unanimously approved a financing plan for the expansion of student housing at UCCS during an April 30 meeting.
The Regents followed the recommendation of Chancellor Pam Shockley-Zalabak, Brian Burnett, senior executive vice chancellor, Administration and Finance, and Susan Szpyrka, vice chancellor, Administration and Finance, to eventually add 900 to 1,000 new living spaces for students in two phases near the existing Alpine Village.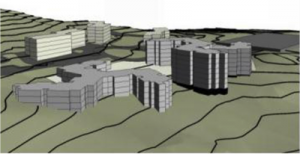 A first phase calls for space for 510 students, a dining center and additional academic programming space to be completed by July 2016. The first 200 spaces are expected to be available in Aug. 2015. The $74.5 million project will be funded through $500,000 in cash reserves from housing operations and a $74 million bond issue. The bonds will be repaid through the rents charged to students who live in campus housing.
"This new student housing development will add needed capacity and help further our academic goals in that additional academic space will be part of this important project," Burnett said.
Expansion of campus housing was included in the 2012-2020 UCCS Strategic Plan that was approved by the CU Board of Regents in 2012.
The new housing will be a mix of one, two, three and four bedroom apartment-style student housing and will be located in what is currently Parking Lot 9 near the Alpine Village student apartments on the west side of campus.
The new housing village will focus on the First Year Experience and will include a large multipurpose classroom, as well as four small classrooms and a dining hall. As has been the recent campus practice, the building will be constructed to meet the U.S. Green Building Council's Leadership in Energy and Environmental Design gold standard.
Tentative dates call for construction to begin in April 2014 and 200 new beds available by Aug. 1, 2015.
Currently underway on campus is an $18.1 million 192-bed expansion of student housing. Called Copper and Eldora, the current expansion adds two new buildings to the existing Summit Village housing complex. Those buildings are scheduled for completion this summer to accommodate students for the fall 2013 semester.
Related: