UCCS will soon ask for bids from private architectural and construction firms to design a $74 million 510-bed expansion to campus housing.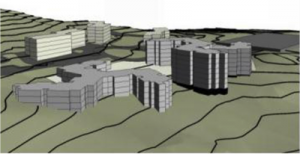 Susan Szpyrka, vice chancellor, Administration and Finance, said the UCCS Planning and Construction office will place advertisements next week requesting bids from qualified firms interested in providing design and construction services. Pending approval of the program plan and finance plan by the Board of Regents, actual construction could begin as early as April 2014. Expansion of campus housing was included in the 2012-2020 UCCS Strategic Plan that was approved by the CU Board of Regents in 2012.
"We've talked about this as a concept with faculty and staff," said Pam Shockley-Zalabak, chancellor, "but we are now taking a major step forward from concept to the reality of a much larger campus housing footprint."
The bid specifications outline plans for construction of more than 200,000 square feet of additional housing with "no less than 510 beds." The new housing will be a mix of one, two, three and four bedroom apartment-style student housing and will be located in what is currently Parking Lot 9 near the Alpine Village student apartments on the west side of campus.
The new housing village will focus on the First Year Experience and will include a large multipurpose classroom, as well as four small classrooms and a dining hall. As has been the recent campus practice, the building will be constructed to meet the U.S. Green Building Council's Leadership in Energy and Environmental Design gold standard.
Tentative dates call for the architect/contractor to be selected by late April with construction beginning in April 2014 and new beds available by Aug. 1, 2015.
"This is a rigorous schedule designed to meet the demand for additional student housing and the growth of the university," Szpyrka said. "We are taking advantage of low interest rates and a recovering construction industry to move an identified need for more housing forward."
Projects such as the expansion of campus housing are funded by bonds which are sold to investors and repaid by rents paid by students. Campus housing is operated as an auxiliary business enterprise.
Currently underway on campus is an $18.1 million 192-bed expansion of student housing. Called Copper and Eldora, the current expansion adds two new buildings to the existing Summit Village housing complex. Those buildings are scheduled for completion this summer to accommodate students for the fall 2013 semester.
Related: