Eight UCCS graduate programs recently joined the Western Regional Graduate Program, making out-of-state students from participating states eligible for in-state tuition rates.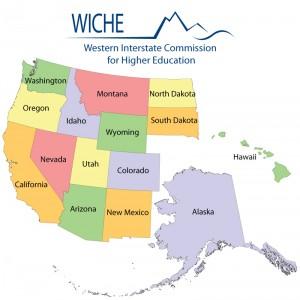 According to Taryn Bailey, graduate recruitment specialist, Graduate School, the WGRP allows graduate students to enroll in emerging and high-demand programs within the Western Interstate Commission for Higher Education region.
The Western Interstate Commission for Higher Education includes Alaska, Arizona, California, Colorado, Hawaii, Idaho, Montana, Nevada, New Mexico, North Dakota, Oregon, South Dakota, Utah, Washington, and Wyoming.
The following UCCS graduate programs joined the WGRP:  Applied Geography, Communication, Counseling and Human Services, Psychological Sciences, Public Administration, Sociology, Teaching English to Speakers of Other Languages – Online, and Space Operations.
"This tuition exchange agreement will help tremendously when marketing to out-of-state prospective students," Bailey said.  "With the added restrictions to federal student loans for graduate students, more and more individuals are looking for universities that offer these types of financial incentives."
The Graduate School works with six UCCS colleges to offer more than 20 master's and doctoral programs, including online, weekend and evening course options.  Almost all graduate faculty members have terminal degrees and many are working with partners such as NASA, the Olympic Training Committee, and the National Science Foundation.