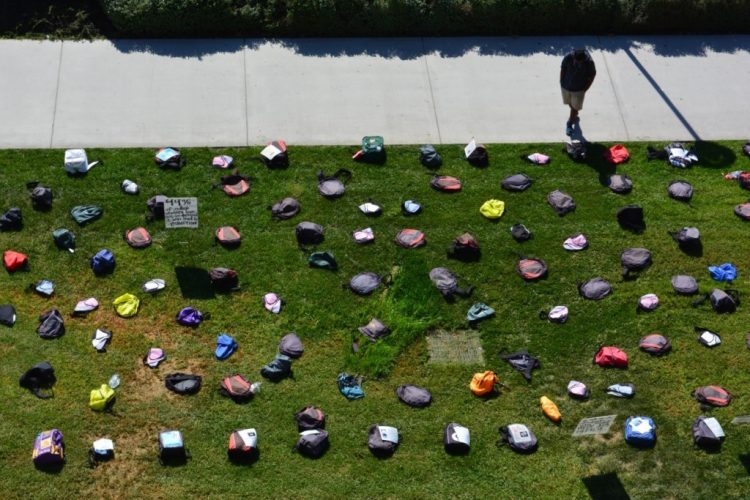 More than 1,100 backpacks representing individual stories of people impacted by the loss of a friend or family member to suicide will be in Berger Hall May 2 as part of the national exhibition "Send Silence Packing." The traveling exhibit brings awareness to the silence that often accompanies mental illness and suicide.
"Mental health is still a hard thing for people to talk about, but it can be treated when someone speaks up," said Stephanie Hanenberg, executive director of health and wellness. "Our campus mental health services team is dedicated to helping our students overcome any of the issues they may face."
Send Silence Packing is presented by Active Minds, a non-profit organization that supports mental health awareness and education for students. Since the inaugural display on the National Mall in 2008, the exhibit has reached nearly one million people in 200 cities.
"The stigma that surrounds mental illness is the reason why many students don't seek the help they need," said Alison Malmon, founder and executive director of Active Minds. "​Send Silence Packing​ is a highly visible way to combat that stigma, increase openness, and inspire action for suicide prevention."
Mental health professionals from the Gallogly Recreation and Wellness Center, and from Active Minds, will be at the West Lawn to provide support for any students in need. Students can also set up an appointment at the Wellness Center at (719) 255-4444. Students and employees who may be sensitive to the exhibit because of personal experiences are encouraged to plan their walking route accordingly.
For anyone thinking about suicide or worried about a friend in crisis, call the National Suicide Prevention Lifeline at 800-273-TALK (8255) or text BRAVE to the Crisis Text Line at (741-741). For resources on how to be a friend to someone who is struggling with a mental health issue, visit activeminds.org/beafriend.