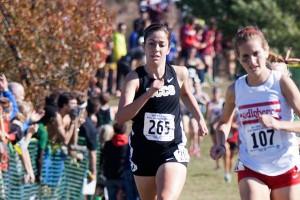 Megan Burrell finished in 21 minutes, 16.1 seconds and placed No. 37 overall for All-America honors to lead UCCS to a No. 10 finish at the 2012 NCAA Division II Women's Cross Country National Championships Nov. 17.
Burrell becomes the tenth Mountain Lion in program history to earn All-America honors and the first since Shannon Payne in 2006. The team finish matches the second-best in program history with the finish in the 2000 championships and behind the seventh-place finish in 2006.
Burrell improved six spots from the three-kilometer split and finished No. 27 among student-athletes running with a full team. She led three Mountain Lions who finished in the top 100 of the overall results, with Veronica Sandoval in No. 53 and Angie Martell in No. 84.
Ashley Benfield finished just out of the top 100, in the field of 249 runners, with 22:24.8. She improved 17 spots in the final three kilometers. Madison Neher, battled an illness late last weekend and rounded out the scoring in No. 120 overall with 22:33.3.
Sam Bauer and Alyssa Wendt both finished as displacers for the Mountain Lions, and would have both been the top runners for two of the teams at the national championships. The performances for the team and individuals come in the largest national championship field in Division II history.
The meet concluded a season of consistent improvement for UCCS, which began the season unranked in the national polls. The Mountain Lions continued to exceed expectations and finished one spot higher in the championships than the most recent poll had indicated.
The UCCS distance runners will be off through the rest of the semester and begin the indoor season at the CU Potts Invitational Jan. 18-19, in Boulder.