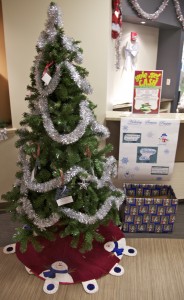 The 2012 Holiday Service Project is in full swing as UCCS community members work together to help brighten the holiday season for 30 UCCS-related families.
The annual service project, which ends Dec. 5, collects donations to be distributed to families in need within the UCCS community. Opportunities to participate range from adopting a family in need to donating food and gifts.
"It's a very heartwarming experience," Mary Lile, co-chair, Holiday Service Project, and accountant, Resource Management Division, said. "It's really a chance to spread the feeling of goodwill and community throughout campus."
Last year, the Holiday Service Project was able to give donations to the families of 28 UCCS students, faculty or staff members. According to Lile, the committee received more applications to adopt a family than they had families in need.
One student recipient, who wished to remain anonymous, said the donations have brightened her holidays.
"Since enrolling at UCCS I've had the best experiences and support from my college," the student said. "To be selected for the Holiday Service Project has been a huge blessing during a season of difficulty. It's truly a gift."
Individuals interested in participating in the Holiday Service Project can do so in the following ways.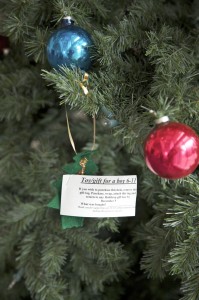 Decorated Giving Trees are located in the University Center, the Bookstore, Main Hall, Dwire Hall, Columbine Hall and University Hall.  Ornaments made by the children at the Family Development Center contain tags indicating a gift that may be purchased for a family member. Community members interested in donating gifts may remove the tag from the tree, purchase and wrap the gift listed on the tag, attach the tag to the outside of the wrapped present and return it to one of the holiday drop boxes.
Holidrop Boxes are located in Main Hall, University Hall, Osborne Center, Dwire Hall, Columbine Hall, Centennial Hall, Engineering Building, Family Development Center, the Library, Cragmor Hall, Public Safety, the Bookstore and the University Center. Donations of canned or dry food will help to provide each family with items used to prepare a holiday meal.
Cash donations containers will be located in the following areas until Dec. 6: University Hall, the Bookstore, University Center Information Desk, Dwire Hall, ENT, Public Safety, Jazzman's, the Bursar's office and the Kraemer Family Library. Any size donation will be appreciated and will be used to purchase nonperishable food items to be donated. Checks should be made payable to "UCCS Holiday Service Project."
Committee members include: Lile, Heidi Schwab, co-chair, Beverly Kiselich, Gudrun McCollum, Ian Ely-Cate, Nancy Gadachy, Rosemary Kelbel, Sheryl Botts, Tish Fleener, Karen Ashley, Cathy Archibald, Sarah Elsey, Claudia Ryan, Deanna Ely, Jacqueline Gaitlin, Megann Powell, Cheya Dowden, Kara Carragher, Claire Ami, and Carla Myers.