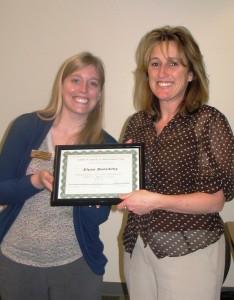 Elyse Dunckley, financial manager, National Institute of Science, Space and Security Centers earned the Employee of the Quarter award this term.
Confidently managing all the paperwork for multi-million dollar NISSSC grants and making it look easy are among the skills Dunckley demonstrates daily. Sharing her expertise and ideas with others makes her invaluable, according to Jenenne Nelson, dean, Graduate School, and professor, Beth-El College of Nursing and Health Sciences.
Dunckley coordinates expenditures and budgets of the various centers under NISSSC to ensure compliance with funding requirements, along with processing expenditures and human resources paperwork. These duties are the mainstay of the financial support she provides to the NISSSC Air Force Office of Scientific Research grant.
In addition to this, she researches how to handle special situations unique to this funding, ensuring compliance under the grant's terms and conditions and the federal rules and regulations.
On top of the responsibilities specific to her position, Dunckley serves as a resource to other sponsored program administrators on campus. She shares the processes she put in place to enhance tracking, ensure financial compliance, and to document expenditures.
Nelson, principal investigator for the NISSSC AFOSR grant, nominated Dunckley with high praise.
"Elyse goes 'above and beyond' on a daily basis," Nelson said. "Her invaluable effort is demonstrated in her job daily when it comes to managing the multi-million dollar NISSSC grants.
"She continues to challenge herself to grow professionally, using daily challenges as an opportunity to learn a new aspect of sponsored programs or university administration," Nelson continued.  "Elyse spends her time interpreting the various layers of applicable rules and regulations, both the university and the federal government, to assist me in grant implementation. She is generous with suggestions and assistance demonstrated by communicating issues to the sponsored programs administrators and researchers.
"As a principal investigator, I rely heavily on Elyse's expertise as an advisor in the administration and implementation of the NISSSC grants. She is an outstanding employee!"