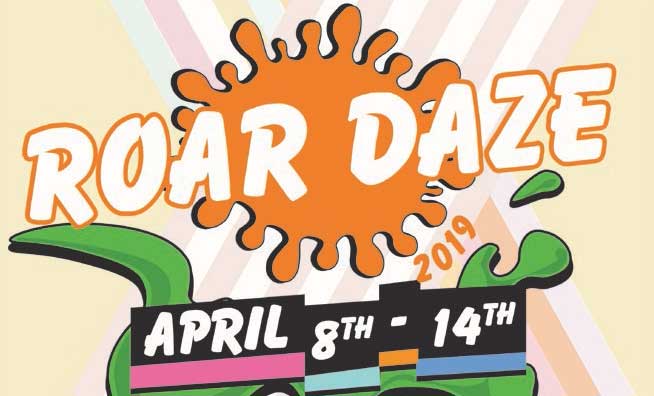 ROAR Daze returns to the UCCS campus for the 17th straight year with seven days of events April 8-14 for students in the final week-long series of special events for the spring semester. The Office of Student Life presents "UCCS-elodeon" for the 2019 ROAR Daze week.
T-shirts are available throughout campus through April 4 at Student Life tables throughout campus. Students are encouraged to download the free UCCSConnect app for easy access to each of the ROAR Daze events.
Though not a part of ROAR Daze, the week of events leads into the Ninth Significant Speaker event with Tarana Burke April 16. Tickets are still on sale but the event is close to selling out.
Sailesh the Hypnotist
April 8 – 8 p.m. – Berger Hall
Looking to have a mesmerizing time? Sailesh the Hypnotist will put you under a spell and transform you at this fun event to kick off Roar Daze. Follow Student Life on social media or visit a table for a chance to be selected.
Drag Show
April 9 – 6:30 p.m. – Berger Hall
Join the LGBTQ Resource Center in partnership Student Life for a celebration of LGBTQ Culture. This event will feature drag performances from seasoned professionals as well as budding student performers.
Bubble Bump Soccer
April 10 – 11 a.m. – 2 p.m. – West Lawn
Stop by the West Lawn for a pick-up game of Bubble Bump Soccer – just like regular soccer, but with players inside a large inflatable bubble.
Dodge Ball Tournament
April 10 – 7 p.m. – Gallogly Recreation and Wellness Center
Bring your teams to see who the campus champion in dodge ball is. Just remember the five D's of dodge ball: dodge, duck, dip, dive and dodge.
UCCS Creed Day
April 11 – 11 a.m. – 2 p.m. – Various locations
Learn more about the Creed that drives UCCS at various tables throughout campus! We'll be in the UC, Columbine, Dwire, and by the West Lawn. Stop by and learn about the Creed that was developed by your Student Government.
Flic @ Nite
April 12 – 7:30 p.m. – Lot 103
Tune in with your car to hear the audio and enjoy a true drive-in experience with "Aquaman."
Beach Bash
April 13 – 8-11 p.m. – Summit Village Turf
Hit Bikini Bottom at this specially-themed Beach Bash! Ever wanted to try a Krusty Krab Pizza? Now will be your chance. Spongebob and his friends will make an appearance on the Summit Turf. If the weather is too snowy, you can find them in the Upper Lodge.
J.C. Penney Suit-Up Event
April 14 – 3-6 p.m. – Citadel Mall
UCCS students and alumni are invited to JCPenney for an exclusive shopping event. You will find everything you need for your next job interview, internship or career fair. Enjoy 40 percent off select business attire, including all clearance items, with your student ID. Free shuttle service provided from the Copper/El Dora bus stop. Registration is required with Student Life.