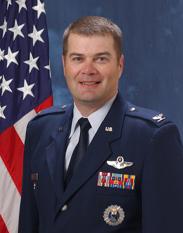 Air Force Colonel Gary Packard will discuss lessons learned by the U.S. military following the repeal of the "Don't ask, don't tell" policy beginning at 5 p.m. Sept. 27 in University Center 303.
Sponsored by the College of Education's Department of Counseling and Human Services, Packard's presentation is called "Loyalty, Reason and Action: Lessons Learned from the Repeal of Don't Ask, Don't Tell." Packard served at the Pentagon as the Air Force writer on the Secretary of Defense's Comprehensive Review Working Group that studied the repeal of the "Don't ask, Don't tell" policy and is head of the U.S. Air Force Academy Department of Behavioral Sciences and Leadership. In that role, he oversees the graduate education of up to 20 Air Force officers who study at UCCS.
"Don't ask, don't tell" was the official United States military policy from Dec. 21, 1993 to Sept. 20, 2011. The policy prohibited military personnel from discriminating against or harassing gay, lesbian or bisexual service members or applicants while barring openly gay, lesbian, or bisexual persons from military service.
A native of Chelsea, Mich., Packard earned a bachelor's degree from USAFA, master's degrees in aeronautical sciences and developmental psychology from Embry Riddle University and Michigan State University and a Ph.D. in developmental psychology from the University of North Carolina, Chapel Hill.
The event is free and open to all UCCS faculty, staff and students. For more information, contact Julaine Field, associate dean, College of Education, 255-5145, [email protected].