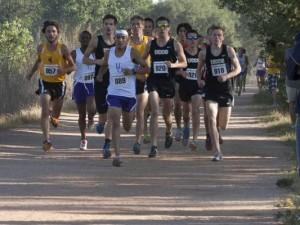 After a perfect score for the men and a strong runner-up performance at the regional preview meet for the women, both UCCS cross country teams were ranked among the top 30 in the first regular season national rankings from the U.S. Track & Field and Cross Country Coaches Association Sept. 19. The men are ranked No. 14 while the women debuted in the poll at No. 30.
The Mountain Lion men recorded a perfect score last Saturday in the Colorado College Invitational and had 10 of the top 15 overall runners in the meet. Emilio Trujillo won his second meet of the season with 26 minutes and eight seconds on the eight-kilometer course in Monument Valley Park.
The UCCS women finished second by two points and placed four runners in the top seven overall at the South Central Region preview meet Monday morning in Denver. The Mountain Lions also added a strong performance at the non-scoring Rust Buster meet to open the season with 14 runners ahead of the second-best runner from New Mexico Highlands and the third-best runner from Metro State.
UCCS has four of its six fall teams either nationally ranked or receiving votes in national polls. In addition to the cross country teams, the women's soccer team is ranked No. 11 by the National Soccer Coaches Association of America and the men's golf team is receiving votes in the GolfWorld/Nike national poll.