UCCS expanded student housing to privately-owned apartments on North Nevada this summer as the university braced for a record-breaking freshman class.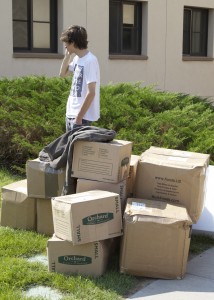 Susan Szpyrka, senior associate vice chancellor, Administration and Finance, in coordination with Ralph Giese, director, Residence Life and Housing, and other UCCS housing leaders, led the placement of 140 students and eight residential housing staff members at Timberline Village at Sunset Creek, 5400 N. Nevada Ave.
The move comes as UCCS works to build additional on-campus space for 200 students to live. For several years, demand for UCCS student housing has exceeded capacity. A $17 million expansion project is underway and is expected to be completed in time for the fall 2013 semester.
"Contracting for space at Sunset Creek was the best option for UCCS to serve an immediate need," Szpyrka said. "A large freshman class was a good problem but one that demanded an immediate solution in terms of housing."
Sunset Creek is under new ownership and many apartments are recently renovated, Szpyrka said. The complex is close enough to campus for services such as an extension of the campus shuttle bus system as well as to allow student residents to feel connected. The proximity of the complex to shopping and restaurants in the University Village Center makes the location more attractive. In marketing materials, Timberline Village is billed as "The Best on-campus Experience Off-campus."
For many years, UCCS students have rented individual apartments at Sunset Creek independent of the university. However, by leasing two buildings in their entirety, UCCS Student Housing officials are able to enforce the student code of conduct and build a university-based learning community.  Conduct policies will be enforced by on-site resident assistants who are also responsible for creating programs that connect residents with each other and with campus. An agreement with the City of Colorado Springs allows campus police officers to patrol the complex and to enforce state and municipal laws.
Sunset Creek's owners offered incentives for existing residents to move from their apartments to make way for the university students. Those incentives included cash or help with moving to another apartment.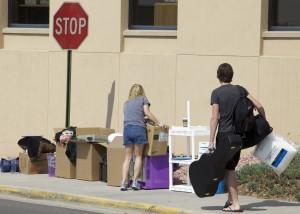 By Aug. 14, 140 students were moved into the apartments. More than half are new students to UCCS who applied for university housing after April. Combining new students with upper-level students as well as student-athletes is a move that housing officials believe will help new students acclimate. Residents will be served by an hourly campus shuttle, and have choices of campus meal plans as well as a basic furniture package with all utilities included in a $4,150-per semester package.
For more information about Timberline Village at Sunset Creek, visit  http://www.uccs.edu/residence/current-resident/about-housing/about-timberline-village.html
Photos by Philip Denman