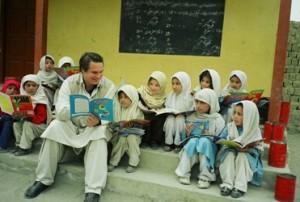 UCCS will present an Honorary Doctorate of Humane Letters to author Greg Mortensen at the Spring 2010 Commencement, scheduled for 11 a.m. May 21 at the Colorado Springs World Arena.
Mortenson is the co-author of Three Cups of Tea: One Man's Mission to Promote Peace…  One School at a Time. The book became a 2007 New York Times bestseller that sold more than 3.6 million copies, published in 41 countries. His latest book, Stones Into Schools: Promoting Peace with Books not Bombs in Afghanistan and Pakistan, debuted as second on the New York Times bestseller list.
He is also co-founder of the nonprofit Central Asia Institute, and its Pennies For Peace program, inspired by a donation of more than $6,000 in pennies collected by elementary school students.
UCCS Commencement Honorary Doctorate of Humane Letters Recipients
2010 – Robert Berliner (December ceremony)
2010 – Greg Mortensen
2007 – Howell M. Estes III
2005 – William J. Hybl
2004 – Bruce Shepard
2003 – Sandy Kraemer
2001 – Ann Haymond Zwinger
2000 – Glenn R. Jones
1998 – David P. Campbell
1997 – Eric Bransby
1996 – Yusef Komunyakaa
1995 – Elizabeth Wright Ingraham, William L. Armstrong
1994 – Kazimierz Dziewanowski
1993 – Myron Wood
1991 – Starr Gideon Kempf
1990 – Leonard von Bibra Sutton
1987 – Joanne Greenberg
1986 – Johnny Smith
1985 – Anne Pellowski
1983 – Frank Waters
1982 – I. Ignacy Golderg
1981 – Paul Engle, Hualing Nieh
1979 – Lowell Thomas
1978 – Marshall Sprague
1977 – Angelo di Benedetto
Mortensen established 131 schools in often-volatile rural regions of Pakistan and Afghanistan. The schools serve more than 58,000 children, including 48,000 girls who previously had few educational opportunities.
In 2009, he received the Star of Pakistan, that nation's highest civil award, and two nominations from U.S. Congressional representatives for the Nobel Peace Prize.
In 1993, Mortenson sustained injuries in the attempt to climb K2, the world's second highest mountain. He was left to recover in Korphe, a remote Pakistani village. During his convalescence, he met a group of children writing with sticks in the sand. Mortenson made a promise to help the villagers build a school. He then dedicated his life to promoting education, especially for girls, in remote regions of Pakistan and Afghanistan.
His efforts were not always well received. He endured an eight-day kidnapping by the Taliban, escaped a 2003 firefight with feuding Afghan warlords, and overcame religious decrees from enraged Islamic leaders. He faced CIA investigations, and threats from fellow Americans for helping educate Muslim children.
Mortenson is considered a hero in rural communities of Afghanistan and Pakistan. He has gained the trust of Islamic leaders, military and militia commanders, government officials and tribal chiefs for his efforts on behalf of education and world peace. Mortenson is also an advocate for the global abolishment of the manufacture and usage of land mines.
More information about Mortenson is available at www.threecupsoftea.com.