Researchers from UCCS will survey South Lake Tahoe residents about the 2007 Angora fire in an attempt to learn lessons about community responses to disaster.
Jeannette Sutton, senior research associate, and Charles "Chip" Benight, director, UCCS Trauma, Health and Hazards Center, are studying behavioral responses and access to critical information during catastrophic wildfires in rural communities.
"We hope to understand how access to information may decrease stress and increase the ability to cope effectively," Sutton said.
Randomly selected participants will be asked to participate in a 20-minute phone survey about their fire experience and their perception of the response and recovery process.
The study is funded by the National Science Foundation and is backed by strong support from the Lake Tahoe South Shore Chamber of Commerce and the El Dorado County Board of Supervisors.
"The scars left behind by a catastrophic fire are not only on the landscape but also on the communities affected," Norma Santiago, county supervisor, District 5, El Dorado County, Board of Supervisors, said. "Strong community linkages combined with effective leadership from the public and private sectors help build the resiliency needed to move forward."
While the study focuses on the South Lake Tahoe community, Sutton believes the findings will serve as a model for other fire-prone areas.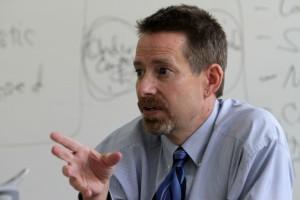 "This is extremely important as much of the U.S. is currently experiencing drought-like conditions and extreme heat," Sutton said.
Sutton and Benight recently saw how extreme the situation could be after the Waldo Canyon fire erupted in Colorado Springs on June 23. The fire burned 18,247 acres and destroyed 346 houses, making it the most destructive fire in Colorado history.
With the Waldo Canyon fire more than 90 percent contained, Sutton plans to submit a proposal to study its effect on the Colorado Springs community.
"We want to investigate the effect that access to critical information has on how people were able to make rapid decisions as the fire approached and their perceptions of how the community will remain resilient and recover," Sutton said.
The Trauma Health and Hazards Center at UCCS is part of the National Institute of Science, Space and Security Centers. Other centers include the Center for Homeland Security, the Center for Space Studies, and the Center for Science, Technology, Engineering and Mathematics Education.
This entry was posted on July 9, 2012 at 8:50 am and is filed under Press Releases. You can follow any responses to this entry through the RSS 2.0 feed.