Visitors making their way to campus from North Nevada Avenue now know they are entering campus property.
Facilities Services staff members, working alongside a contractor, recently completed a new campus entry sign near the intersection of North Nevada and North Nevada. The intersection name was selected by the City of Colorado Springs to mark the extension of Vincent Road.
"The new UCCS sign lets visitors know they are in Mountain Lion territory," Brian Burnett, vice chancellor, Administration and Finance said.
Technically, the sign sits in City of Colorado Springs right of way, a detail that Burnett says is indicative of municipal support of the university.
"It's there with the city's permission," Burnett said. "The city is, once again, supporting UCCS development and growth."
The sign mimics the design of other campus entrance signs with a notable exception. The "at" is missing in the University of Colorado Colorado Springs. The omission follows the university's two-year-old branding standards. There are no plans to remove the preposition from other campus signs.
The new UCCS sign is just one improvement to North Nevada. UCCS and the developers of University Village Shopping Center recently combined resources to plant new trees and lay sod in a median on North Nevada that fronts the shopping center and the university's new front door.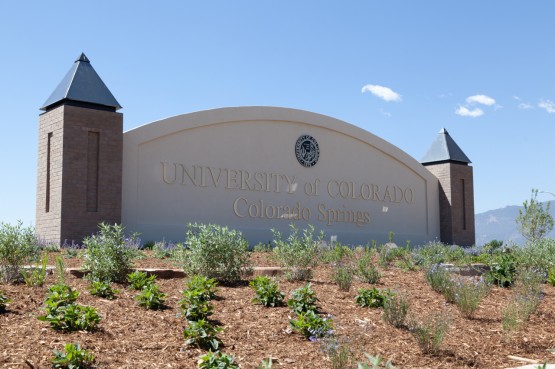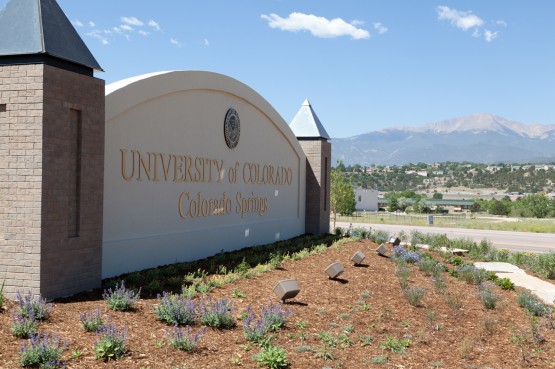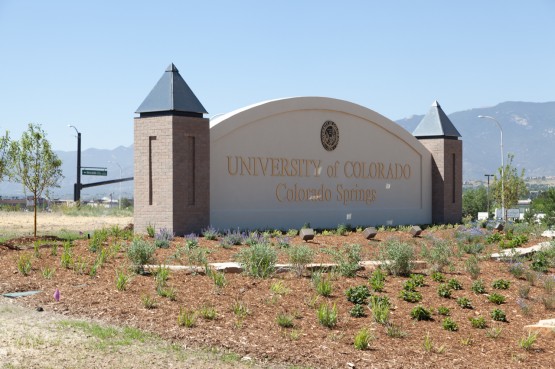 – Photos by Philip Denman, University Advancement