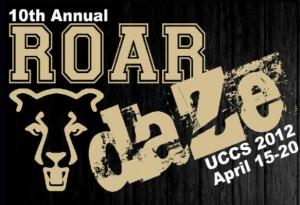 ROAR Daze is a weeklong UCCS celebration that features a family day, a carnival, appreciation of students and the earth, poetry, and a hypnotist.
ROAR, an acronym that applies to the ROAR office, stands for Refuge for Activities, Organizations and Recreation. ROAR Daze, presented by the Office of Student activities, takes the activities, organizations and recreational events outside to show them off to the campus and community from April 15-20.
The celebration kicks off at 11 a.m. Sunday on the west lawn with Family Day. This is an event geared toward youngsters, intended to include the community as well as the student body, faculty and staff. Guests can enjoy bouncy houses, Velcro walls, jousting stations, a caricature artist, balloon animals, arts and crafts and face painting along with a free buffet catered by Sodexo.
The campus carnival, 11 a.m.- 4 p.m. Monday on the west lawn, offers fun and games like a dunk tank, palm reading and a car bash. Representatives from a wide range of student clubs will be on hand to explain their interests and activities. Food, music and Colorado spring weather are also featured.
The ROAR Awards Ceremony is at 6 p.m. Tuesday at Clyde's in the University Center. The annual event recognizes student clubs and student leaders for outstanding performance and participation in student life and leadership for this school year.
ROAR Daze includes an Earth Day celebration 11 a.m.- 2 p.m. Wednesday on the upper and lower university plazas. The Office of Sustainability and The Green Action Fund join the OSA to inform UCCS students about living a more sustainable lifestyle, preserving the environment and maintaining the planet. Members of student clubs will assist in the process and student volunteers will be planting trees in the lower plaza.
Hypnotist Jim Wand will put on a show at 7 p.m. Thursday in the Upper Lodge. Wand is a popular entertainer who has been performing at UCCS for 10 years. He puts a select few audience members under hypnosis to entertain the rest of the crowd with outrageous scenarios and unexpected behavior.
ROAR Daze winds to a close as the campus' Free Expression Poetry Club hosts a poetry slam from 6-9 p.m. at Clyde's. Aspiring and accomplished campus poets are invited to take the open mic to share their verse, while poetry fans with no wish to perform can come and listen.
For more information about ROAR Daze, call the OSA at 255-3096 or the ROAR desk at 255-3470.