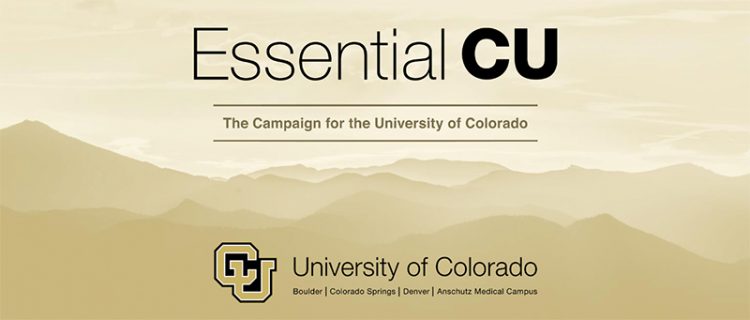 The University of Colorado announced the launch of a $4 billion philanthropic campaign that will strengthen CU's mission of improving lives in Colorado and beyond.
The university's most ambitious campaign to date will support academic, research and public service priorities across the four-campus CU system (Boulder, Colorado Springs, Denver and the Anschutz Medical Campus in Aurora). The total will reflect fundraising totals from across CU's four campuses. CU will seek to inspire giving that accelerates a variety of strategic imperatives, notably:
Expanding student opportunities and access
Enhancing research and discovery
Attracting and retaining top faculty
Transforming health care
"Our donors are our partners in advancing CU and Colorado and their contributions add significant value toward our efforts as one of the top universities in the world," said CU President Bruce D. Benson. "Their investment in the university has a substantial return for our state and society in terms of more opportunities for students, leading-edge medical and scientific breakthroughs, economic impact and improved quality of life."
Benson, who last summer announced he intends to retire from the university in July after more than a decade as president, co-chaired CU's last two successful $1 billion-plus campaigns with his wife, Marcy. Creating Futures exceeded its $1.5 billion goal in 2013 and Beyond Boundaries exceeded its $1 billion goal in 2003.
CU has raised $2 billion in the quiet phase of this campaign, which began in late 2013.
"CU is well positioned to build on the fundraising success in recent years and achieve greater things," he said. "We have a great partner in the CU Foundation and I have every confidence we will achieve the campaign goal, which will elevate our efforts to serve our students and state."
The campaign name, Essential CU, is inspired by the university's role in creating a Colorado that is economically, physically and culturally healthy. CU aims to match its donors' passions with the talent CU who can transform those interests into practical, tangible benefits. Visit giving.cu.edu/essentialcu to learn more.
The four campuses will launch individual campaigns at future dates during the system campaign, focusing on campus-specific priorities, goals, identities and messages. The campuses and the CU system also will identify university-wide fundraising initiatives that cross fields of study and campus boundaries, such as college affordability, health care, economic growth and scientific innovation.
The campaign comes as CU continues to benefit from record-breaking donor generosity over the past decade.
In fiscal year 2018, donors made $440.4 million in gifts and commitments to bolster CU's campuses, schools, colleges and programs. It was the ninth straight year in which private donor support surpassed the previous year's giving, and it featured one of the largest gifts in CU's history – a $120 million gift from the Anschutz Foundation and its founder, Philip Anschutz, to accelerate faculty recruitment, research and facilities. Other recent notable giving includes a $10 million gift from Lola and Rob Salazar to support the Student Wellness Center at CU Denver, the first named building in campus history; several hundred gifts that helped fund the Ent Center for the Arts at UCCS, a new performing arts complex in Colorado Springs; and a $10 million gift from Paul Rady at CU Boulder that created a partnership with Western State to offer CU Boulder bachelor of science degrees in computer science and mechanical engineering.
CU's endowment, which invests donor gifts to provide funding in perpetuity, has more than doubled in the past 10 years, from approximately $640 million to more than $1.3 billion today.