Courtney Camelin, thought having an assigned mentor, a regular part of the Karen Possehl Women's Endowment Scholarship, was a bad idea.
"I thought 'I'm 35 years old, if I haven't figured out life by now, what's the chance someone else is going to be able to teach me?'" the senior economics and political science major, mother, and employee of a local law firm, said recently.
But having Jan Weiland, vice president, Cascade Investment Group, and a three-year supporter of KPWE assigned to her, is something that Camelin says changed her life.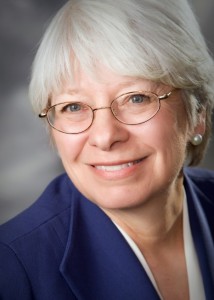 "I found out she'd been a non-traditional student, too," Camelin  said. "Talking to someone who had 'been there and done that' made me understand that I could do it and that her words were not hollow or empty."
January is national mentoring month, a time set to celebrate the power of mentoring and to encourage both mentors and mentees to accept what the other has to offer. Proclaimed by President Barack Obama and backed by the Harvard School of Public Health, mentoring has plenty of supporters nationally and at UCCS.
"Every day, mentors help young Americans face the challenges of growing into adulthood," Obama's proclamation reads. "By setting a positive example and sharing their time, knowledge and experience, mentors play an essential role in preparing our nation's youth for a bright future. During National Mentoring Month, we celebrate the contributions of all those who cultivate a supportive environment for the next generation, and we recommit to expanding mentorship opportunities across our country."
And while Camelin gushes about the affect Weiland has had on her life, Weiland is equally positive about the experience.
"I selected her because of her major in economics," Weiland said. "I was worried that we'd have nothing in common. That hasn't been a problem. Mostly, I listen. When you're working with someone who is so highly motivated, being encouraging is easy."
For Weiland and Camelin, mentoring has meant an occasional breakfast meeting and, recently, a trip to a semi-formal University Club dinner where Camelin found herself elbow-to-elbow with Terry Schwartz, associate dean, Graduate School of Public Affairs, and local business leaders.
"She (Weiland) has introduced me to people I never would have met," Camelin said. "The networking has been incredible but the coolest thing is just being able to talk with her and get her perspective as a local business leader. I've made a new friend, one that I know I will keep even after graduation."
Many departments at UCCS encourage mentoring relationships. Among the largest are the efforts of the Multicultural Office for Student Access, Inclusiveness and Community. Through the leadership of Carmen Abeyta, assistant director, dozens of students have been paired with staff and faculty members in mentoring relationships.
As shining examples of campus mentors, Abeyta cited Julie Albertson, senior instructor, College of Engineering and Applied Science, Josephine Benavidez, director, Pre-Collegiate Development Program, Kirsten Bartholomew Ortega, assistant professor, Department of English, Sylvia Martinez, assistant professor, College of Education, and Al Schoffstall, professor, Department of Chemistry and Biochemistry.
"The UCCS Mentoring Program began approximately eight  years ago under the leadership of Anthony Cordova and Jesse Perez," Abeyta said. "There were ten staff and faculty mentors initially. That's and grown to nearly 150 mentors to date while pairing hundreds of mentors and mentees over the years. Mentors range from professionals in various student service departments to faculty from within every college at UCCS."
Mentoring at UCCS is not limited to staff and faculty.
The program has partnered with the UCCS Alumni and Friends Association and with Barbara Gaddis and Ellen Pettijohn of the Office of First Year Experience. Gaddis and Pettijohn advise the UCCS Peer Mentor Club so students can mentor each other.
"The UCCS Mentoring Program is always in need of new mentors," Abeyta said.
Those interested in volunteering or receiving more information should contact Abeyta at cabeyta@uccs.edu or 255-3447.
For tips about mentoring, view: