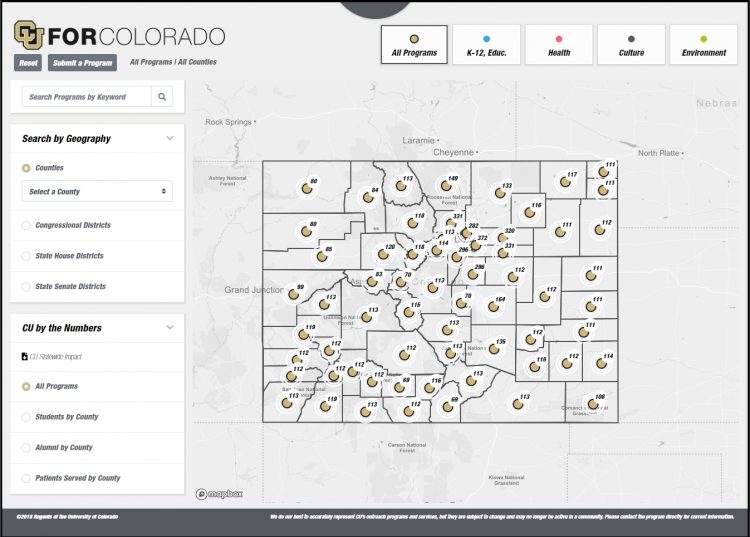 CU for Colorado – the website showcasing the University of Colorado's outreach, patient care and impact – has relaunched with a new interactive map that demonstrates the value the four campuses bring to the entire state.
The new site allows users to search nearly 800 outreach programs by county, Congressional Districts, state legislative districts, keywords and broad categories. CU for Colorado also lists details on CU's presence in each county, including the number of students, degrees granted, transfer students, new freshmen, alumni, CU Advocates, patients served and more.
The centerpiece map provides a visual demonstration of the wide array of service and outreach efforts from CU's four campuses. Some are targeted programs or services offered in specific communities, while others are broad statewide programs that any community may access. Individual program entries provide links to other CU sites for more information.
CU for Colorado's relaunch is an evolution of the site that debuted more than five years ago. President Bruce Benson sought to tell the story of how the state's flagship university complements its campus-based teaching and research mission by sharing the expertise and resources of faculty and students with communities large and small across Colorado.
Such outreach also includes more than 500 health care locations where CU physicians, dentists, pharmacists, nurses and physical therapists (among others) provide care.
The Office of Academic Affairs, along with University Relations, has worked with the campuses to identify programs listed on the site; faculty and staff are encouraged to add to the database by filling out this form.
For more information, see http://cuforcolorado.cu.edu/.
–This originally appeared in the Jan. 10, 2019, edition of CU Connections.