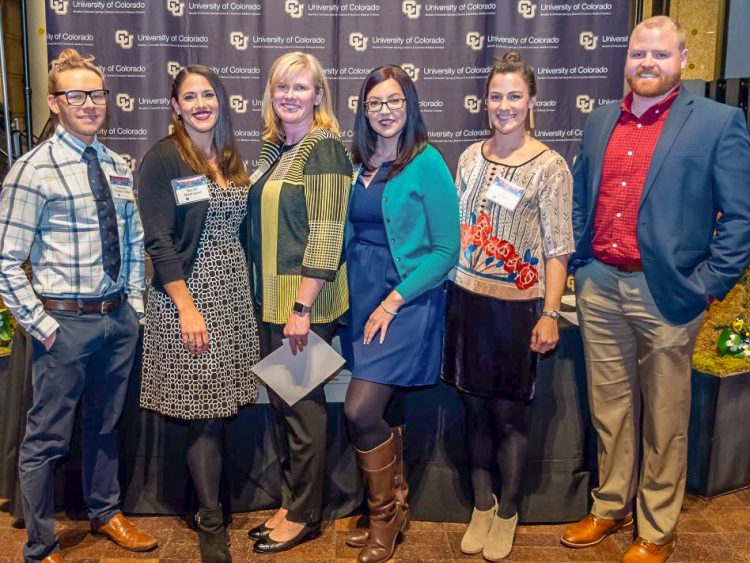 Beau Kelly, associate director of development, was recognized as the UCCS recipient for the CU Foundation's McCord Excellence in Fundraising Award. He received the honor during the foundation's annual holiday event Dec. 11 in Denver.
"I'm honored to be selected for this award, and I am proud to be a part of the UCCS development team," Kelly said. "I love having the opportunity to work with a great team and the community to provide the resources for our students to succeed."
Kelly joined the staff as assistant director in 2015 and was promoted to associate director in 2017. In that time, he has worked with the athletic department to build support for scholarships, operating funds and facility construction. Kelly has grown the number of recipients for the Reach Your Peak scholarship by 50 percent to 150 students. He previously worked with the School of Public Affairs.
Kelly was recognized as a Rising Star by the Colorado Springs Business Journal in spring 2018. He is a member of the board for the Colorado Springs Rising Professionals and Court Care.
"Scholarship growth is the top priority for the UCCS campus, and Beau has led the way in expanding the Reach Your Peak scholarship program," wrote Melinda Hagemann, executive director of development, and Martin Wood, senior vice chancellor of advancement, in the nomination letter. "Through his work, new donors have joined long-standing supporters to make an impact in the number of students who receive financial support at UCCS."
Named in honor of the late Charles McCord who led the CU Foundation from 1981 to 2000, the award recognizes employees who exemplify creativity, entrepreneurship, integrity, collegiality, loyalty and vision. An advancement professional from each campus and the central advancement office received recognition.