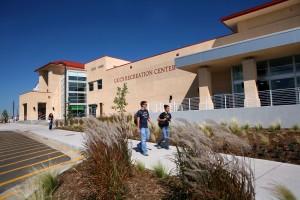 More than 75 percent of survey respondents want the UCCS Recreation Center to expand and would support a fee increase to make it happen.
Matt Gaden, director, Campus Recreation, shared results of a campus poll and the first few focus group meetings to shape the rec center's future. Representatives of Barker Rinker Seacat Architecture participated with students, staff and faculty in focus group discussions Oct. 25 and 26, considering possibilities and making early assessments.
"The survey results were encouraging in that it showed us that many of the students on campus are supportive of considering an expansion," Gaden said.
"As it stands now, we do not know what the fee amount is that we will ask for, or how much money we will have for construction. The architects working on the project are going to work on some concepts based on the feedback that they received in the focus groups, along with information from the survey, and their discussions with the steering group. At that point we can start to really evaluate designs and look at project cost and see what that would translate to, in terms of a fee.
"The focus groups went well and we had some really good discussions with students about their priorities in a facility expansion," he continued. "Much of what we heard from them backed up what we have observed and what came out of the survey: the top priority in an expansion is going to be more fitness space, both strength and cardio. But also coming up as important are more gymnasium space, more group fitness space, space for specialty fitness programming (specifically a spinning room), open fitness space that can be used for stretching, plyometric, or compound movement exercises.
"There was also some support for racquetball courts to be included if they can be worked into the design and budget. We will meet with the architects again in a couple of weeks to review their findings and concepts and make adjustments."
Gaden said 712 people took part in the survey, which addressed key demographics, how people use the rec center, and their position on expansion.
The first part provided a general profile of rec center clientele: more than half are 18-20 years old, female, and live off campus. About 87 percent of rec center users are undergraduates, divided fairly evenly between freshmen, sophomore, junior and senior year students, with graduate students and others comprising the remaining 13 percent.
Just more than one-third of rec center visitors use its facilities once or twice per week; well over one-third visits three to four times per week. Almost half stay 30 minutes to an hour and more than one-third stay as long as 90 minutes. The top five obstacles to using the center are lack of time, crowded conditions, lack of convenient parking, no outdoor facilities and inconvenient hours.
The ten top priorities survey respondents rated important or very important to expansion were: strength machines, cardio equipment, free weights, field space, group fitness space, expanded locker rooms, expanded climbing wall, tennis courts, racquetball courts and gymnasium space.
According to the survey, 76 percent of respondents favor expansion and 78 percent would support a fee increase to $35 per month. Gaden reiterated that determining any amounts for costs or fees will come much later in the process, but expansion is logical and necessary.
When the existing center opened in fall 2007, UCCS enrollment was approximately 7,700. Fall 2011 enrollment is more than 9,300 students, an increase of 21 percent. UCCS is planning for enrollment of 10,000 within a few years.
The National Intramural and Recreational Sports Association's recommendation regarding fitness space considers 98,660 square feet of indoor recreation space appropriate for 10,000 students. Their recommendation for appropriate fitness space per student is 1.25 square feet, and the rec center is currently at 0.6 square feet per student. The center offers 54,000 square feet, and with the current enrollment of approximately 9,300 students, that fulfills 54.7 percent of the recommendation.
Complete survey results may be found at http://www.uccs.edu/recexpansion/index/What-You-Said.html.