The nation's first sports/outdoors business plan competition attracted interest from across the country and several potential new businesses that would be a perfect fit in the Pikes Peak region, according to UCCS event organizers.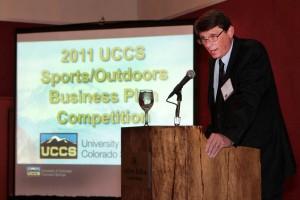 Tom Duening, director, UCCS Center for Entrepreneurship and El Pomar Chair of Business and Entrepreneurship, promised more than $35,000 in prizes to teams of college students who would share their ideas before a panel of business experts. Last weekend, eight teams competed with one team taking home a $20,000 first prize.
The 2011 UCCS Sports/Outdoors Business Plan Competition was supported by the U.S. Olympic Committee, El Pomar Foundation, and numerous other sponsors. The largest financial sponsor was Challenger Homes, which donated the $20,000 first prize.
"The community of Colorado Springs is the winner," Duening said. "Each of these teams, representing some of the best universities in the nation, were absolutely thrilled by what they experienced in our community. And each of them presented plans for a viable business that would be at home right here, right now."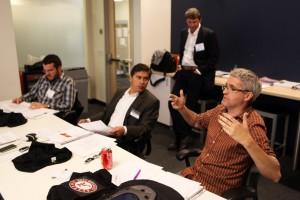 The teams stayed at the Antler's Hilton Hotel and made their presentations to a panel of local judges at the new USOC Headquarters in downtown Colorado Springs. They heard speeches from Olympic wrestler Rulon Gardner, Chancellor Pam Shockley-Zalabak, and local business leaders about what a great place Colorado Springs is to live and to do business. Teams that did not make the finals were treated to a tour of the community, including a visit to the U.S. Olympic Training Center.
"The goal of this competition was to build the buzz," Duening said. "In a nutshell, we wanted to say 'Look what we've got. Wouldn't you like to build your sports/outdoors venture here?'"
After all, Duening points out, Nike can trace its roots to company founder Phil Knight selling running shoes from the trunk of his car. There's no reason not to think that the next big idea in outdoor sports isn't in the heads of today's college students.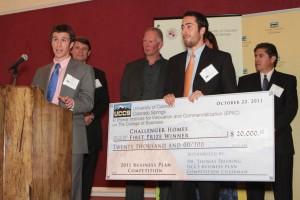 Announced in April, the contest required teams to submit their plans to a website. Following a preliminary screening, eight teams were selected to present their ideas to a panel of local judges with four receiving prizes. The competition was sponsored by Challenger Homes, Colorado Springs, which provided the $20,000 grand prize. Other sponsors included the U.S. Olympic Committee and El Pomar Institute for Innovation and Commercialization based at UCCS.
The competition winners were:
The $20,000 Challenger Homes first prize was awarded to Janji (www.runjanji.com) represented by Mike Burnstein and David Spandorfer from Washington University, St. Louis, Mo. Janji's proposal focused on the production and marketing of athletic wear that also contributes to various causes ranging from cancer research to clean water production in Africa.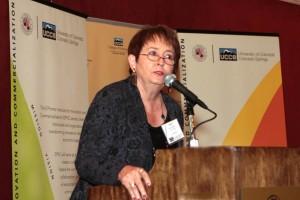 A $10,000 second prize was awarded to DC Golf (http://www.facebook.com/pages/DC-Golf/129103810515663?sk=info) represented by David Cosel and Michael Tighman from UCCS. The students proposed a business to resell golf-related items ranging from tee times to individualized lessons and a unique mobile phone application that allows golfers to receive instruction while on the course.
A $3,500 third prize was awarded to Sports Entertainment Gear (http://segshirts.com/contact) represented by Travis Williams and Brian Harge from the University of Nevada Las Vegas. The students proposed a line of athletic apparel that contained lighting to protect  nighttime runners.
A $1,500 fourth prize was awarded to StrideSports represented by Brian Beard of the University of Michigan. The company is a designer and producer of standing bicycles.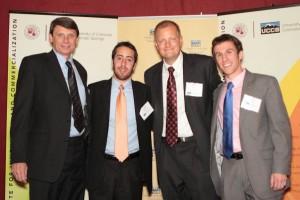 Plans are already underway for next year's competition with Duening setting sights on more entries and even bigger prizes.
"$20,000 is a lot of money but it is an inexpensive way to recruit businesses to our community," Duening said. "This prize money has the potential to be returned hundreds of times over."
— Photos by Tom Kimmell