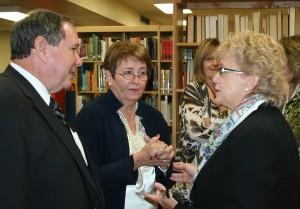 Lamar Community College and UCCS hosted a community reception Thursday evening to highlight the schools' growing partnership.
LCC President John Marrin, UCCS Chancellor Pam Shockley-Zalabak and CU Regent Sue Sharkey, along with staff members from both LCC and UCCS, attended the event to discuss a program where students complete their first two years of college at LCC and complete bachelor's degrees at UCCS, possibly without leaving Lamar.
"We are excited that Chancellor Shockley-Zalabak is able to join us for this reception celebrating the wonderful 2+2 program between LCC and UCCS," Marrin said. "This allows our students to complete their bachelor's degrees while continuing to live in our area. What a great option for local residents.
The first program between the colleges helped registered nurses earn Bachelor of Science in Nursing degrees from UCCS. Business and criminal justice programs began this fall and more programs may be added.
"I am delighted to cement the relationship with Lamar Community College with a personal visit," Shockley-Zalabak said. "It's important that LCC students see us and have the opportunity to ask questions about how they can reach their personal peak at UCCS."