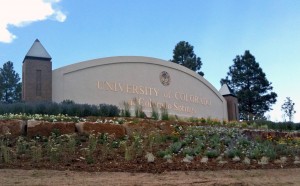 The final touch for a concrete 54-foot-by-13-foot sign that signifies the west entrance to UCCS will soon be completed.
Bushes planted as part of landscaping are taking root and solar-powered lights ensure all who pass by the intersection of Austin Bluffs Parkway and Nevada Avenue know they are entering UCCS territory. But the university has yet to celebrate its latest addition and to thank those who made it possible.
Formal dedication ceremonies for the sign are scheduled for 10 a.m. July 20 on the northeast corner of Austin Bluffs Parkway and North Nevada Ave. Representatives of local government, civic organizations, and businesses will attend. The campus community is also invited. Parking will be on the southern edge of the Four Diamonds lot.
"It is important that we, as a university, say thank you to those who made this sign – the subject of many discussions and dreams over the years – a reality," Martin Wood, vice chancellor, University Advancement said. "I encourage the campus community to join us in marking the occasion."
Representatives of El Paso County, the Greater Colorado Springs Chamber of Commerce, C & C Sand and GH Phipps Construction are expected to attend and to be recognized by UCCS leadership for their financial or in-kind donations.
"Without the donated materials, construction management services and labor, this sign wouldn't have happened," Brian Burnett, vice chancellor, Administration and Finance, said. "We are deeply appreciative of so many people seeing the importance of this project and being willing to contribute to it."
The primary portions of the sign were completed in Oct. 2010 with details such as plants, mulch and irrigation completed earlier this spring by UCCS Facilities Services staff members. The dedication ceremony was scheduled to allow donors to attend. A sign announcing the university's presence at one of the city's busiest intersections was bandied about for more than a decade, Wood said. The project was routinely postponed because of a lack of funds.