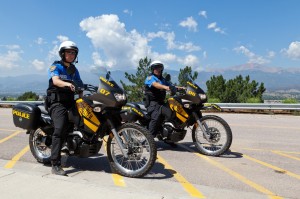 Getting a ticket from a motorcycle cop may not be the best welcome to campus this fall semester but it may be the first time some members of the UCCS community encounter the Department of Public Safety's latest innovation.
The department purchased a pair of motorcycles in early June, said Jim Spice, executive director, Department of Public Safety. The cycles are designed for both on-road and off-road duty. As official vehicles they are marked "UCCS Police" and are equipped with sirens and red and blue flashing lights.
"The biggest reason we decided to start a motorcycle patrol unit was for the fuel savings," he said. "These Kawasaki KLR 650 Enduros are getting up to 60 mpg, which is significant when gas prices remain as high as they've been.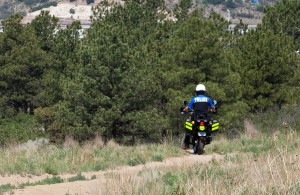 "Another obvious benefit is the off-road capability these motorcycles have. In the past there have been many incidents on and around the campus which required an immediate response in difficult to reach places where a response just wasn't practical or possible with regular patrol vehicles. We are very excited to have this increased capability."
The Motorcycle Patrol Unit consists of Brian McPike, sergeant, Marc Pino, sergeant, and Steve Dewey, patrol officer. Campus police have the same authority as any police officer in the state of Colorado. To meet the same standards, the trio received qualified police motorcycle training for this assignment. Pino and Dewey also serve in the Bicycle Patrol Unit so they may be seen on campus in bike shorts as readily as in riding leather but wear white helmets either way, Spice said.
"Another benefit we've experienced is officers on motorcycles are much more approachable. We've found that community members feel much more comfortable approaching our police officers when they are on bicycle or motorcycle patrol versus being in a car."
In addition to the cycles, university police vehicles include three Toyota Highlander hybrids, one Toyota Prius hybrid, a Chevrolet Impala, two pickup trucks and about a half dozen bicycles, Spice said. He noted that the hybrids were also purchased with fuel economy in mind, but the motorcycles are proving more efficient than the 25 mpg the Highlander gets or the Prius' 40 mpg.
"There are some down sides to having a motorcycle patrol unit, however," he added. "Unfortunately, these motorcycles cannot be driven during inclement weather.  Also, our motorcycles cannot transport passengers. If one of these officers makes an arrest, he has to call another officer with a patrol car to transport the person to jail.
"There are more advantages than drawbacks, so I believe having a motorcycle police unit on campus is going to be a great addition," Spice said.
— Photography by Jeff Foster, University Advancement