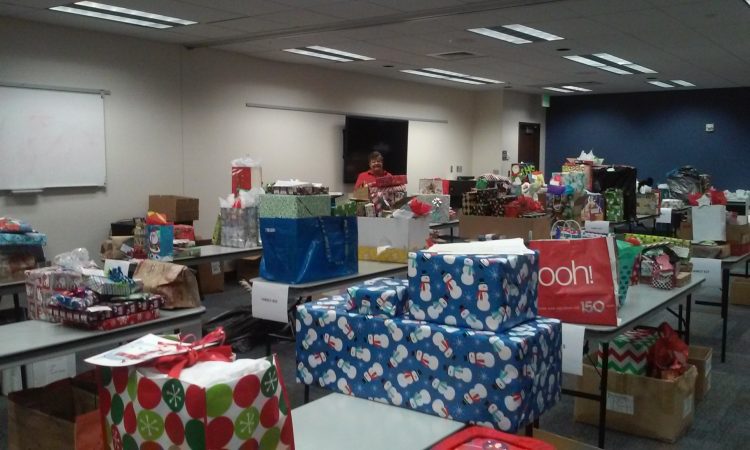 UCCS community members can provide assistance to campus families in need during the holiday season by participating in the 2018 Holiday Service Project sponsored by the UCCS Staff Association. Giving trees and drop-off locations are located throughout the campus, and gifts and donations must be received by Dec. 5 in order to make the Dec. 7 delivery deadline to families.
"The generosity of our faculty, staff and students makes us proud to lead this project," said co-chairs Chrissie Bailey and Allison Milam. "This is a team effort every year that involves individuals, offices, departments and student clubs who come together to help each other."
Seven giving trees across campus contain decorations made by children at the Family Development Center, and each decoration has information on gifts can be purchased for the families. Participants can remove the tag, wrap the gift, and leave it at one of eight drop-off locations on campus. Cash and check donations can also be made at one of three locations on campus.
Giving tree locations
University Center near Berger Hall
University Center near Bookstore
Main Hall second floor
Dwire Hall first floor
Columbine Hall main entrance
Gallogly Recreation and Wellness Center lobby
University Office Park 1873 (Accounting and Budget Office)
Holidrop gift box drop-offs
Academic Office Building – Room 529
Financial Aid Office – Cragmor Hall 201
Osborne Center third floor by the Daniels Fund K-12 Room
Gallogly Recreation and Wellness Center front desk
University Center Information Desk
Main Hall second floor near Student Financial Services desk
University Office Park 1873 (Accounting and Budget Office lobby)
Dwire Hall Sanatorium Grounds
Cash/check collection boxes
University Center Sanatorium Grounds
Café 65
University Office Park 1873 (Accounting and Budget Office)