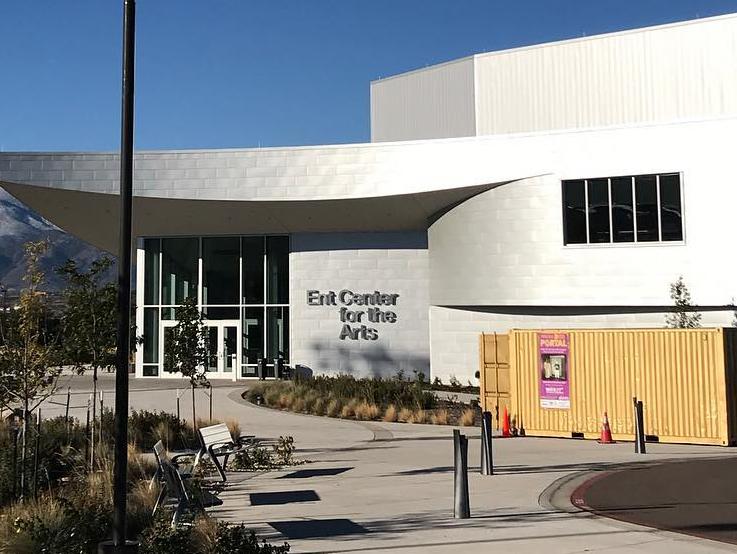 After a month on the central campus, the gold shipping container that houses The Portal Project and brings people from across the world together will continue its engagement on the UCCS campus at the Ent Center for the Arts. The container was moved Oct. 15 and will remain near the main entrance to the facility through Nov. 15 as part of the Galleries of Contemporary Arts' AWOL: Arts WithOut Limits public sculpture program.
Participants will have the opportunity to exchange ideas and develop quality connections with people in Berlin, Gaza, Yangon, Erbil, Mexico City and cities in the United States. For a full list of locations, go to sharedstudios.com/sites, To sign up for a portal session visit sharedstudios.com/uccs.
"Arts is a common global language, and the Portal Project is a perfect fit for us to showcase that," said Daisy McGowan, director, GOCA. "During the next month, we're excited about the opportunities to engage with artists around the world, and to have our artists join in that conversation."
The Portals were created by two former D.C. journalists, Amar Bakshi and Michelle Moghtader, with a desire to provide people from different cultures with a space to connect and develop deeper understandings of one another. To make this possible, the shipping containers are outfitted with audio-visual technology and a life-size screen to make real-time communication possible.
The Portal Project at the Ent Center is made possible by the support from the Bee Vradenburg Foundation and the Marie Walsh Sharpe Art Foundation. GOCA and Imagination Celebration are serving as the local hosts.