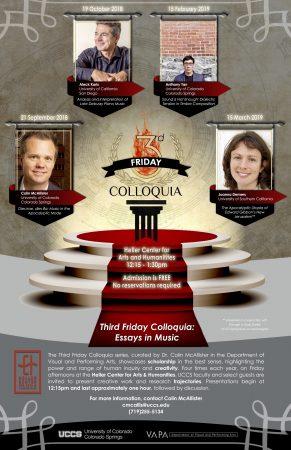 A new series 'Third Friday Colloquia: Essays in Music' starts Sept. 21 at the Heller Center for the Arts & Humanities, curated by Colin McAllister, music program co-director, Visual and Performing Arts.
The series will showcase scholarship while highlighting the power and range of human inquiry and creativity. Artists from Colorado Springs and California will be featured Friday afternoons from 12:15 – 1:15 p.m.
"I hope this series will facilitate discussion between faculty and students on the broad community of artists outside of the classroom," McAllister said.
McAllister will discuss historical context, religion, biblical studies, philosophy and roots in music during Friday's 'Dies irae, dies illa: Music in the Apocalyptic Mode' showcase.
2018 – 2019 series schedule:
Sept. 21
Dies irae, dies illa: Music in the Apocalyptic Mode
Colin McAllister (University of Colorado Colorado Springs)
Oct. 19
Analysis and Interpretation of Late Debussy Piano Music
Aleck Karis (University of California, San Diego)
Feb. 15
Sound is Not Enough: Dialectic Tension in Timbre Composition
Anthony Tan (University of Colorado Colorado Springs)
March 15
The Apocalyptic Utopia of Edward Gibbon's New Jerusalem
Joanna Demers (University of Southern California)
** presented in conjunction with Through A Glass Darkly: UCCS Symposium on Apocalyptic
For more information, contact McAllister, [email protected], (719)255-5134