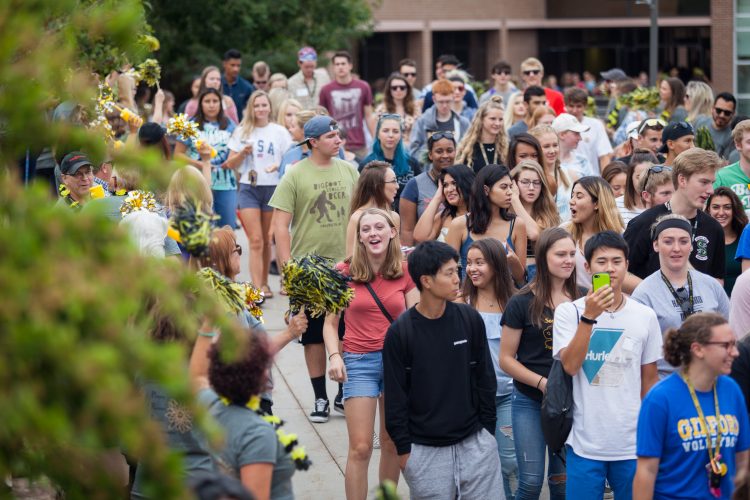 UCCS experienced its 12th straight year of record-setting enrollment as more than 12,500 students enrolled in classes for the fall 2018 semester. The official count of 12,574 was reported during the regular meeting of the CU Board of Regents Sept. 14 at the CU Anschutz Medical Campus.
The university experienced a 1.2 percent growth with 152 more students compared to the previous fall. The growth was driven by a 2.4 percent increase in retention rate among first-year students with a record 1,363 students returning to UCCS in their second year. The 2,023 first-time freshmen on campus marked the second-largest class in history.
"We have a diverse student body with an equally diverse set of needs, and providing the resources that will allow each one of those students to succeed has been one of our top priorities in the last year," said Chancellor Venkat Reddy. "It takes everyone on campus to meet those needs, and the improvement in our retention rate is a signal that we're taking appropriate steps to ensure that students are succeeding at UCCS."
Students represent all 50 states and the District of Columbia, along with 48 countries. About 19 percent of students have a military affiliation.
Overall graduate enrollment grew by 4.6 percent to a record 1,906 students, also driven by strong persistence. The graduate enrollment in the Helen and Arthur E. Johnson Beth-El College of Nursing and Health Sciences increased by 13.1 percent, or 36 students, from the previous fall with a total of 311 students enrolled.
Undergraduate enrollment increased by 0.8 percent. The College of Education represented the largest percentage increase at 11.2 percent.
Since 2006, enrollment at UCCS has grown by 66 percent.
The CU system reported an enrollment of 66,728 students, a 2 percent rise from a year ago, with growth on each of the four campuses.