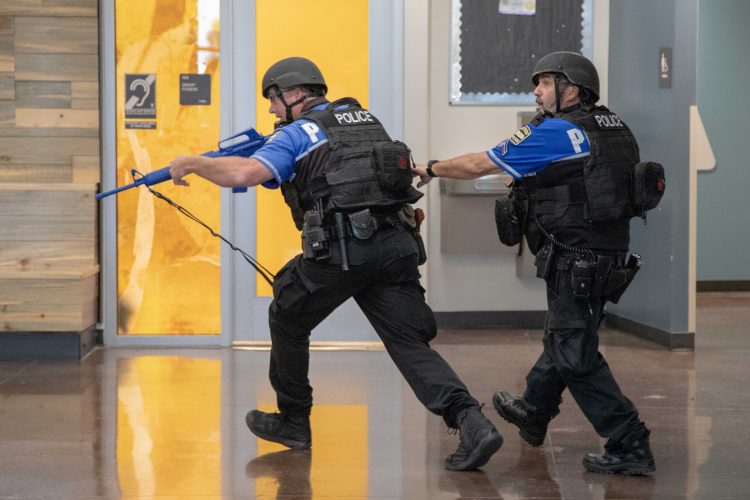 As training takes place across campus for the fall semester, the professional and student staff at the Gallogly Recreation and Wellness Center put their learning into action with a simulated active shooter test August 13 in coordination with the UCCS Police Department.
"Our goal was to create an exercise that allows us to test multiple pieces of the campus response, not just for our officers, but for the staff who work in the buildings and our dispatch center," said Grant Lockwood, sergeant, UCCS Police. "These are no-fail scenarios where everyone can focus on learning and listening about the different ways to resolve the situation."
The training provided an environment for the staff who had to shelter in designated rooms and for police officers who had to move quickly to remove the threat. The shooter used blanks to simulate gunfire and the fire alarms were activated to create the noise and confusion that is likely to happen in a real situation.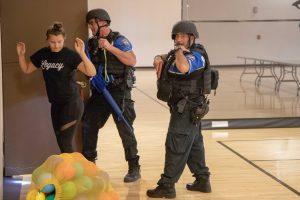 The police department also set up a small RAVE notification group to communicate with staff taking part in the drill and test dispatch response. The noise in the building, with the shots and the fire alarm, allowed officers to train on how to communicate with dispatch and with each other in that noisy environment.
It took officers only four-and-a-half minutes to remove the shooter and start a sweep of the building. Officers and staff participated in a debrief session after the sweep to evaluate the response.
"We talk about these scenarios each year in our trainings, but to practice with a live simulation allowed our staff to take it to the next level," said Stephanie Hanenberg, executive director, Health and Wellness. "Being able to test our response in a realistic scenario allowed us to ask informed questions with the police officers after the drill on how different variables would have impacted our response."
The drill is part of ongoing efforts by the UCCS Police Department to address potential threats on campus. The campus installed locks on classroom doors in the summer that allow anyone inside the room to shelter in place without a key. Officers took part in a small training exercise during spring break in University Hall and attended additional trainings over the summer. Individuals, departments, classes and groups interested in learning more to host a training can contact Police Chief Marc Pino at [email protected].
The UCCS Police Department employs 17 sworn, state-certified and commissioned peace officers in addition to five campus service and housing security officers. Officers are also cross-commissioned with the Colorado Springs Police Department. The department enforces municipal and state laws on campus and in the surrounding neighbors through an intergovernmental agreement with the City of Colorado Springs.
UCCS Police encourages students, faculty, and staff to register and maintain contact information with UCCSAlerts for phone and email notifications. All uccs.edu email addresses are automatically registered, and additional email addresses and phone numbers for parents and spouses can be used for emergency notification. Individuals can also register for community alerts through the El Paso-Teller County 911 Authority. Social media will also be used on Twitter (@UCCS_Prepared, @UCCSPolice, @UCCS) and on Facebook (UCCS Emergency Management, UCCS Police, UCCS).