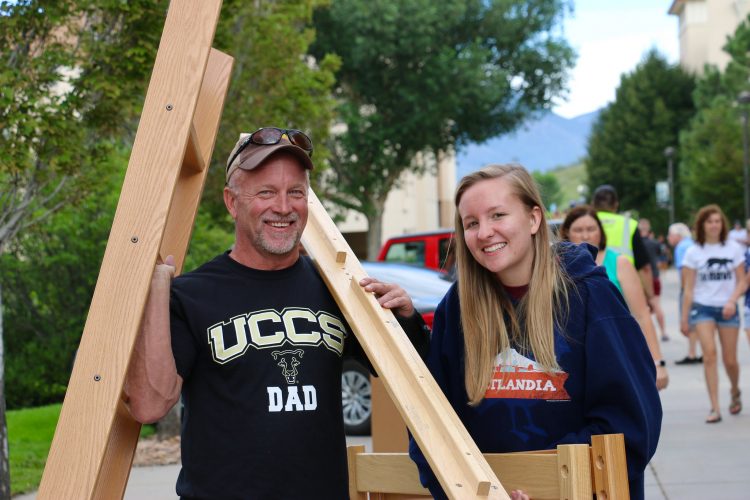 More than one thousand members of the Class of 2022 will arrive in trucks, SUVs and trailers August 14 to move into their new homes in Summit Village and the Village at Alpine Valley. The arrival is likely to cause impacts in traffic and parking patterns for most of the day.
PARKING
Parking in the lots nearest to the residence halls are likely to see increased traffic, especially lots 224 and 230, and both garages (Gateway and Alpine). Lot 224 will be closed to allow for staging of families preparing to move in. Employees and students are encouraged to park in the lots on the east side of central campus, like lots 222, 220 and 103, where there is expected to be less congestion. The busiest time for move-in at Summit Village (the residential complex near Columbine Hall) will be in the morning hours, but freshmen will be moving into those halls throughout the day. Alpine Valley move-in will begin in the afternoon.
TRAFFIC
Because of the large amount of traffic on campus at two specific intersections, backups on Austin Bluffs Parkway will be possible. Be aware when driving near the Regent Circle intersection (near Academic Office Building) and the Stanton Road intersection (near the Gallogly Recreation and Wellness Center) that traffic may be waiting to turn, and that it could backup out of the turning lanes and into the driving lanes.
Be aware that the only vehicle access to Alpine Valley will be on Stanton Road from Austin Bluffs Parkway. No access to Alpine Valley will be available from the north from Eagle Rock Road.
VOLUNTEER OPPORTUNITIES
Employees and students are encouraged to help freshmen move into their residence hall rooms. Sign-up forms are available online here.
WELCOME RESOURCES
Members of the UCCS community are encouraged to help individuals who may be struggling to find their way across campus. Most often, it may be how to find specific buildings, rooms or offices. Most links for office webpages can be found at uccs.edu/about. A mobile friendly map is available at map.uccs.edu or print off a copy to carry. Physical copies of the maps are also available at the University Center Information Desk.