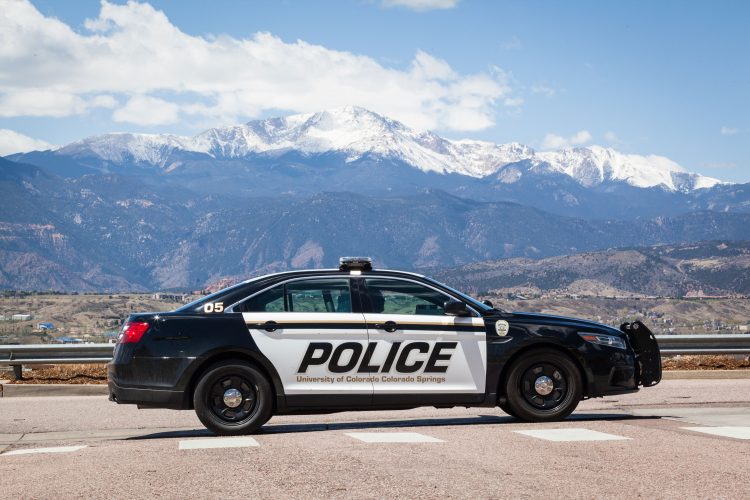 A grant from the U.S. Department of Justice will mean UCCS police officers can spend more time on patrol and less time at their desk. The entire patrol fleet received mobile data computers and the required software for officers to complete reports and upload information while remaining in the field.
"This new technology makes our officers more efficient and responsive to the needs of our campus community," said Jerod Heidrick, sergeant, UCCS Police. "Our officers will be able to stay on location to answer the calls for assistance, and not at a desk to complete incident reports or upload body camera footage."
The department received $18,860 from the Bureau of Justice Assistance to purchase seven refurbished Panasonic Toughbooks with computer aided dispatch software and installation equipment. One of the machines also includes software for command staff to remotely view cameras and monitor units on campus from any location. The department saved 60 percent by using refurbished computers instead of new machines, which allowed each vehicle to receive the equipment.
UCCS police handles 27,000 calls for assistance each year, and Heidrick estimates that officers will be able to spend 7,000 more hours in the field. The software will allow officers to receive information in real-time from dispatch and not rely on radios to receive information.
"This is a big change for our department, but it brings us in line with best practices in law enforcement," said Marc Pino, chief of police, UCCS Police. "We'll be able to be more proactive in our policing role and improve our already low response times for service."
This project was supported by Grant # 2014-DJ-17-06-44-1 awarded by the Bureau of Justice Assistance. The Bureau of Justice Assistance is a component of the Office of Justice Programs, which also includes the Bureau of Justice Statistics, the National Institute of Justice, the Office of Juvenile Justice and Delinquency Prevention, and the Office for Victims of Crime. Points of view or opinions in the document are those of the author and do not represent the official position or policies of the United States Department of Justice.