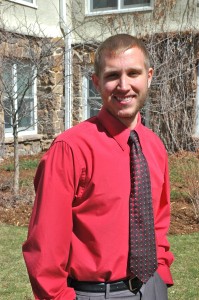 Ryan Hollamby, graduate student, Department of Geography and Environmental Studies, became this year's UCCS Student Employee of the Year, after introducing technology used in geography to the Colorado Department of Corrections.
He will receive a trophy and a check for $200, to be presented at the campus awards ceremony at 3:30 p.m. May 3 in Berger Hall.
Hollamby is helping put the Colorado DOC on the forefront of corrections agency practices across the U.S. by using Geographic Information Systems technology. His geography research uses a mapping technology he realized could be used tracking offenders in the DOC system.
Hollamby came to UCCS with a Bachelor of Science degree from State University of New York at Fredonia. He majored in environmental science and minored in geology, biology and GIS. As a graduate student at UCCS, he produced a thesis involving tree line movement in mountain elevation. Changes in climate have an effect on trees, including where they grow. Tree line movement has an impact on local ecology and natural resources, affecting water use by people.
Hollamby used GIS in his research mapping differences in tree line elevation. Computer and satellite technology provided a visual display of the data he collected.
As a student employee of the UCCS Psychology Department, he was assigned a job as a research assistant at DOC headquarters in the Office of Planning and Analysis. His duties were originally data entry and proofing. Later, he was introduced to offender movement and incident data, involving offenders' movement patterns. The GIS he had used for mapping is an information system that manages and displays its data visually. While others at DOC headquarters had extensive computer expertise and experience, Hollamby's geography research view gave him a fresh perspective.
"The DOC was most flexible," Hollamby said, "and what's nice is that they let me pursue ideas with technology that was in some ways unfamiliar to them."
He emphasized that applying the GIS technology is still a work in progress. The offender movement and tracking project is not completed and will require fine-tuning at headquarters before being introduced at the DOC facility level.
Starting with mapping locations of state correctional facilities, the ongoing project focuses on locales inside the facilities. Hollamby explained how the mapping technology manages, analyzes and projects spatial data. The data contains locations, and the system links locations to visual displays.
Tracking offenders' incident patterns inside prison locales enabled the identification of areas Hollamby called "hot spots" where incidents occurred. Collected data identified, for example, where inmate assaults on prison staff or other unacceptable activity took place. GIS displays took into account lighting, how often guards passed through an area, and other factors. This information can then be used to address such issues.
"I found myself always explaining the GIS," he said. "While it's a complex system, it can be practical. I've been able to show some of its possibilities. GIS can provide information to staff that use it to prevent occurrences, make safer, more secure facilities, and be more efficient and save money."
The Colorado DOC is applying GIS procedures, and may soon pass them along to other correctional agencies nationwide, thanks to Hollamby. In demonstrating capabilities and initiative far beyond showing up on time and performing his duties competently Hollamby earned recognition and the campus award.
In addition to his UCCS honors, he was chosen Student Employee of the Year for the state of Colorado.  In an upcoming contest, he will compete for regional student employee of the year which could lead to national recognition.
Hollamby expects to graduate in May with a Master of Arts in Applied Geography. On April 8, he is scheduled to defend his thesis: "The Massenerhebung Effect: Exploring Treeline Elevation Differences Between the Pikes Peak Massif and the Elk Mountain Range, Colorado, USA"
Hollamby remarked how he has benefited from his job at DOC headquarters, saying he is grateful for the freedom given him to make his contribution.
"If I were as restricted as I could have been, entering data, I never would have been able to achieve this," he said.
— Photo by Philip Denman