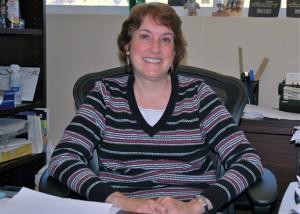 Mary Lou Kartis, assistant to the dean, School of Public Affairs, received the annual Service Excellence Award for her contributions to UCCS.
Each year the University of Colorado Staff Council recognizes and rewards individuals from each CU campus who provide outstanding volunteer service to their campus, community, and the university as a whole. Kartis will be recognized and receive a $1,000 award at the All-Staff Council Conference April 15.
"It's a great honor," Kartis said. "But I don't think people who serve do it for the awards and surprises."
Kartis has worked at UCCS for the past 23 years, the last 19 of which she has spent working in the SPA as one of three members of the school's management team. Kartis's list of responsibilities includes overseeing all of SPA's budget and payroll, course scheduling and academic updates, and acting as the initial point of contact for current and prospective students.
"Mary Lou takes great pride in her job and goes out of her way to assist the entire School of Public Affairs faculty as well as assisting the numerous students that have questions regarding the various programs," said Jane Muller, program assistant, Women's And Ethnic Studies, in her nomination letter of Kartis.
Kartis said that one of the most rewarding things she does is her involvement with students.
"I think we're all here because we enjoy serving students," Kartis said when asked what she enjoys about her job. "I'm lucky, though, because I get to interact with them on a daily basis and see their successes first hand."
Outside of her work for SPA, Kartis is involved in a number of UCCS wide committees and advisory boards and served on the  University of Colorado Staff Council as a UCCS representative for three years. Outside of CU, Kartis has been involved in Relay for Life since 2006 and is her neighborhood watch coordinator.
— Photo by Philip Denman