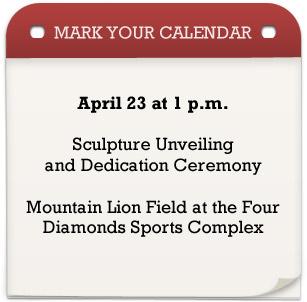 Formal dedication ceremonies for new artwork at UCCS are scheduled for approximately 1 p.m. April 23 at Mountain Lion Field at the Four Diamonds Sports Complex.
Between the final 2011 home games of the Mountain Lion Softball Team, university leaders will unveil a 12-foot-tall bronze sculpture to honor women student-athletes. The bronze, created by sculptor Denny Haskew, Loveland, of the National Sculptors' Guild, and donated by benefactor Glenn Williams, Colorado Springs, depicts a shortstop fielding a ground ball.
The project was commissioned by UCCS supporter Williams to highlight the role of women's athletics in the collegiate experience. In addition, the Glenn D. and Joan R. Williams Endowment for Women's Athletics support women student-athletes in softball, cross country/track and field, soccer, basketball and volleyball and the softball coach position.
"Glenn Williams is a friend of the university with a passion for women's athletics," Chancellor Pam Shockley-Zalabak said. "We appreciate his vision and his generosity."
Williams, a retired Eastern Illinois University administrator, began attending softball games in 1993 and later became friends with Head Coach Scott Peterson and many players.
Williams will speak at the dedication event which will follow an 11 a.m. game against Adams State University and prior to the first pitch of a double-header. He will be joined by Shockley-Zalabak, Peterson and Steve Kirkham, director, Athletics. Players and fans will also join in the festivities. The event is organized by the CU Foundation which facilitated Williams' gift and the sculpture's creation along with the Department of Athletics.
To see renditions of the sculpture, please visit https://communique.uccs.edu/?p=2698.