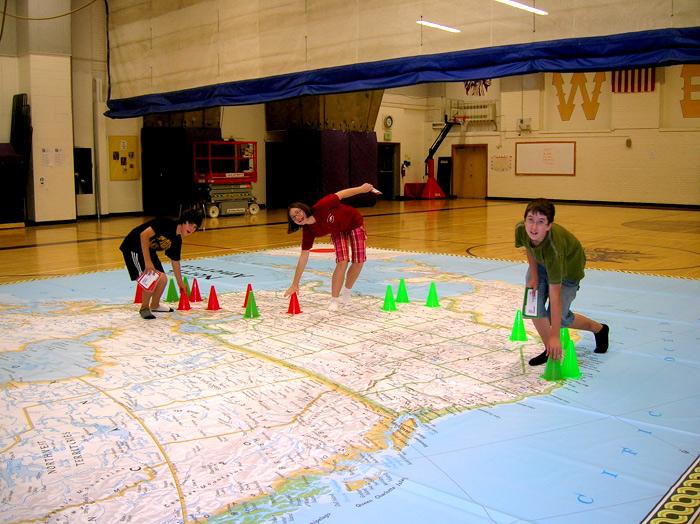 The open to the public schedule for the North America Giant Map is:

12 September, 12 – 4 pm
Meadows Park Community Center
1943 South El Paso Avenue

13 September, 1 – 5 pm
Sand Creek Library
1821 South Academy Boulevard

19 September, 12 – 5 pm
Fountain Branch Library
230 South Main Street, Fountain

20 September, 1 – 5 pm
East Library
5550 Union Boulevard
A giant National Geographic map arrived in Colorado Springs this week to assist in improving understanding of the physical characteristics, history, and varied cultures of North America.
Measuring 26 feet by 35 feet, the map and a trunk of accessories that includes interactive games, geography adventures, atlases and books, will visit six schools, three libraries and a community center, in part because of the efforts of UCCS geography faculty.
"If you have wanted to explain to your grandchildren where you grew up, or show your children how far away Disney World really is, then this is an opportunity you will not want to miss," Rebecca Theobald, assistant professor adjoint, Geography and Environmental Studies, said.
The Colorado Geographic Alliance, located at UCCS, is working with local school districts and community groups to ensure that as many students as possible have access to the map. Steve Jennings, associate professor, Geography and Environmental Studies, first encountered the map last year at the National Council for Geographic Education conference.
"This map is impressive," Jennings said. "I can't wait to watch children and families explore the country from a different perspective."
The giant map is designed for grades K-8. Some of the activities are "A Tale of Twenty Cities," where students explore the physical and economic reasons behind the locations of North American cities, and "Grocery Store Geography," which uses bean-bag-tossing skills to test student knowledge of where foods are produced. The map is based on the National Geographic reference map series and on the North America map in the "National Geographic Atlas of the World, 8th Edition."
"Experiencing a map of this size can really awaken a student to the power of maps and
the limitless depth of geography," said Dan Beaupré, National Geographic's director of education partnerships. "Whether they are using the map to learn place names or to compare state-to-state CO2 emissions, students are physically involved in a hands- and feet-on way that makes geography into an event."
The National Geographic Giant Traveling Map brings with it rich content and exciting activities to enliven the study of geography, making it a fun, interactive experience. The North American map is the third in National Geographic's Giant Traveling Map series. Africa began touring in 2006, followed by Asia in 2007. In the 2008-2009 school year, more than 90,000 students experienced walking on a National Geographic Giant Traveling Map.
Additional information about the map is also available at http://www.ngsednet.org/community/index.cfm?community_id=515.
–by Rebecca Theobold