DENVER – La Vonne Neal, dean, College of Education, will be a keynote speaker at the 19th Annual National Association for Multicultural Education Conference Oct. 28-Nov. 1 in Denver.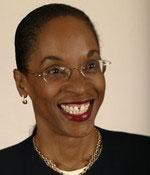 Meeting at the Grand Hyatt Hotel, 1750 Welton Street, Denver, the conference will feature experts in the fields of educational equality, diversity and cultural awareness for students ranging from preschool to secondary schools. The conference theme is " A Mile High Commitment to Change: Reaching New Heights in Equity and Social Justice Throughout the Global Community."
More than 800 participants are expected including educators, scholars, authors, activists and students.
Neal will speak at 7 p.m. Oct. 28 and will facilitate a forum on Oct. 31.
Neal is a recognized expert in African-American history and has conducted extensive research in the area of educational attainment by African-American men. She has led changes in the curriculum in the College of Education and workshops with area school districts to improve the cultural competency of classroom teachers as a way to increase academic performance.
More information on the conference is available at www.nameorg.org or by contacting Jesus Escarcega, (303) 340-0864, ext. 28425 or Jan Perry-Evenstad, (303) 556-3337.