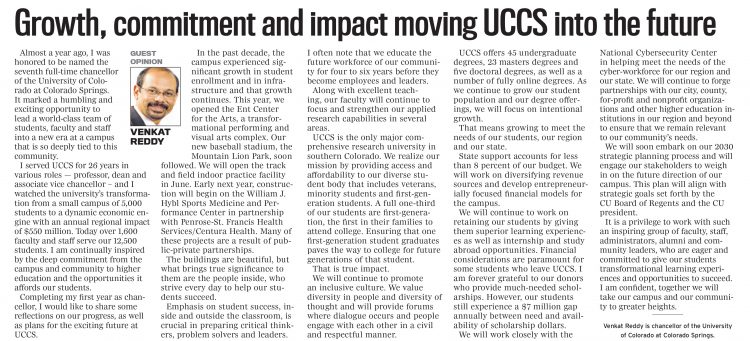 ---
Chancellor Venkat Reddy wrote an op-ed that appeared in the April 29, 2018, edition of The Gazette, who reflected on his first year as Chancellor and laid out his goals for the future.
Growth, commitment and impact moving UCCS into the future

Almost a year ago, I was honored to be named the seventh full-time chancellor of the University of Colorado at Colorado Springs. It marked a humbling and exciting opportunity to lead a world-class team of students, faculty and staff into a new era at a campus that is so deeply tied to this community.

I served UCCS for 26 years in various roles – professor, dean and associate vice chancellor – and I watched the university's transformation from a small campus of 5,000 students to a dynamic economic engine with an annual regional impact of $550 million. Today over 1,600 faculty and staff serve our 12,500 students. I am continually inspired by the deep commitment from the campus and community to higher education and the opportunities it affords our students.

Completing my first year as chancellor, I would like to share some reflections on our progress, as well as plans for the exciting future at UCCS.

In the past decade, the campus experienced significant growth in student enrollment and in infrastructure and that growth continues. This year, we opened the Ent Center for the Arts, a transformational performing and visual arts complex. Our new baseball stadium, the Mountain Lion Park, soon followed. We will open the track and field indoor practice facility in June. Early next year, construction will begin on the William J. Hybl Sports Medicine and Performance Center in partnership with Penrose-St. Francis Health Services/Centura Health. Many of these projects are a result of public-private partnerships.

The buildings are beautiful, but what brings true significance to them are the people inside, who strive every day to help our students succeed.

Emphasis on student success, inside and outside the classroom, is crucial in preparing critical thinkers, problem solvers and leaders. I often note that we educate the future workforce of our community for four to six years before they become employees and leaders.

Along with excellent teaching, our faculty will continue to focus and strengthen our applied research capabilities in several areas.

UCCS is the only major comprehensive research university in southern Colorado. We realize our mission by providing access and affordability to our diverse student body that includes veterans, minority students and first-generation students. A full one-third of our students are first-generation, the first in their families to attend college. Ensuring that one first-generation student graduates paves the way to college for future generations of that student.

That is true impact.

We will continue to promote an inclusive culture. We value diversity in people and diversity of thought and will provide forums where dialogue occurs and people engage with each other in a civil and respectful manner.

UCCS offers 45 undergraduate degrees, 23 masters degrees and five doctoral degrees, as well as a number of fully online degrees. As we continue to grow our student population and our degree offerings, we will focus on intentional growth.

That means growing to meet the needs of our students, our region and our state.

State support accounts for less than 8 percent of our budget. We will work on diversifying revenue sources and develop entrepreneurially focused financial models for the campus.

We will continue to work on retaining our students by giving them superior learning experiences as well as internship and study abroad opportunities. Financial considerations are paramount for some students who leave UCCS. I am forever grateful to our donors who provide much-needed scholarships. However, our students still experience a $7 million gap annually between need and availability of scholarship dollars.

We will work closely with the National Cybersecurity Center in helping meet the needs of the cyber-workforce for our region and our state. We will continue to forge partnerships with our city, county, for-profit and nonprofit organizations and other higher education institutions in our region and beyond to ensure that we remain relevant to our community's needs.

We will soon embark on our 2030 strategic planning process and will engage our stakeholders to weigh in on the future direction of our campus. This plan will align with strategic goals set forth by the CU Board of Regents and the CU president.

It is a privilege to work with such an inspiring group of faculty, staff, administrators, alumni and community leaders, who are eager and committed to give our students transformational learning experiences and opportunities to succeed. I am confident, together we will take our campus and our community to greater heights.