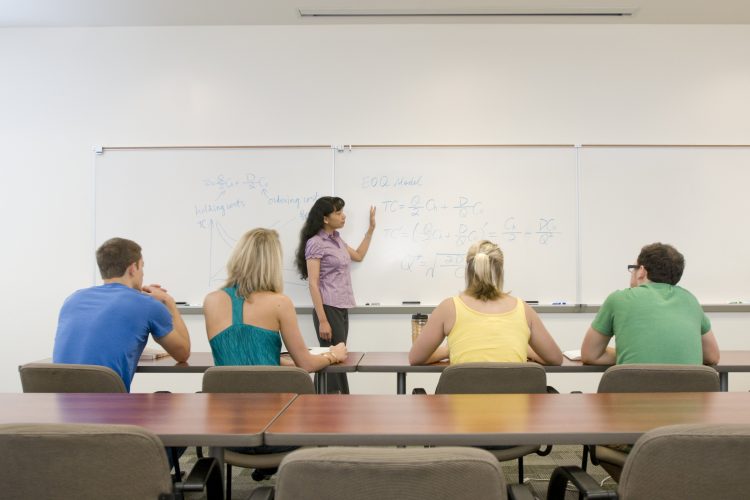 A new state report shows UCCS is the top four-year choice for southern Colorado high school students in concurrent or dual enrollment programs.
Nearly 2,400 students earned college credit from UCCS in 2016-17, the second-highest total in the state among four-year institutions, in the annual report by the Colorado Department of Higher Education and Colorado Department of Education released April 3. It's the second straight year enrollment surpassed 2,000 students in the outreach programs.
"As a leader in southern Colorado for high school students to achieve college-level courses, we're proud that students and K-12 districts have chosen UCCS for the challenge," said Valerie Schwinn, executive director, Online and Academic Outreach. "We have more than doubled our enrollment in the last three years with multiple options to provide the largest points of access to students in our region, and continue to do so through new and exciting initiatives."
Students from 48 high school and college preparatory programs along the Front Range enrolled in UCCS courses during the 2016-17 academic year. The 2,392 students enrolled is a 24 percent increase from two years ago and a 103 percent increase from three years ago. Only CU Denver had a higher enrollment in the state among four-year schools.
UCCS offers high school students options through CU Succeed, CU Succeed Platinum, Project Lead The Way, Concurrent Enrollment, MathOnline and Pre-Collegiate. CU Succeed and Project Lead the Way courses are taught by university-qualified high school teachers at more than 25 schools in the region, while CU Succeed Platinum and concurrent enrollment courses are taught by UCCS faculty.
Project Lead the Way is a national program that encourages students to expand their knowledge in science, technology, engineering and mathematics at 36 high schools in southern and southwest Colorado. MathOnline allows students to remotely continue math courses taught by UCCS faculty, especially when they have completed all of the available math courses at their high school. Concurrent enrollment allows high school students to attend courses on campus along with UCCS degree seeking student and Pre-Collegiate is designed to motivate and prepare first generation students in pursuit of their higher educational goals.
"All of these amazing program are set up to ensure that students are academically prepared to enroll in, and be successful at UCCS or any other postsecondary institution of their choice," Schwinn said.
Statewide, more than one-third of high school juniors or seniors participate in dual enrollment programs with a 94 percent pass rate. Nearly 42,000 high school students participated in dual enrollment courses offered by two-year, four-year and technical colleges across Colorado.
"Dual enrollment is more than just a great opportunity for Colorado high school students, it's also a powerful strategy in reaching 66 percent statewide attainment by 2025 and erasing equity gaps among Colorado's minority students," said Kim Hunter Reed, executive director, CDHE. "Not only are dual enrollment students more likely to enroll and persist in college than their peers, they are less likely to need remedial education once they arrive on campus. Our goal is to ensure universal access to these programs across our state."