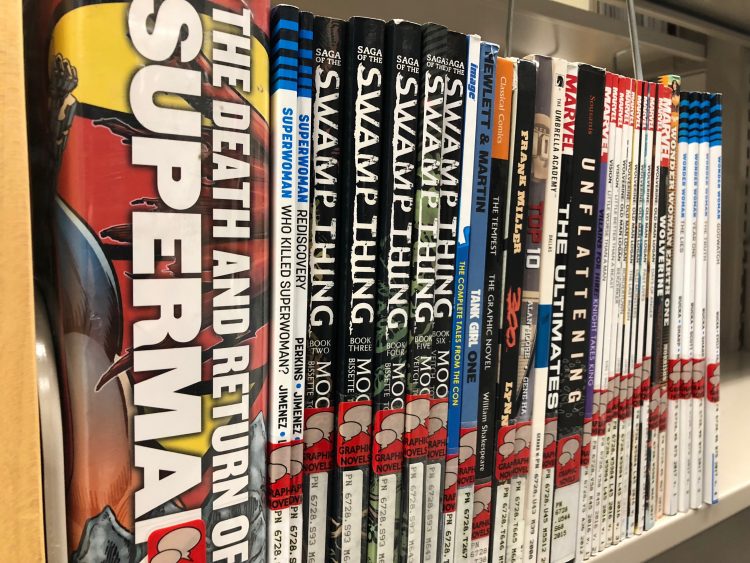 A grant from the American Library Association and the Will and Ann Eisner Family Foundation will provide support of creative workshops and materials for veterans through the Kraemer Family Library with the announcement of the 2018 Will Eisner Graphic Novel Growth Grant. The library will accept the grant in June during the ALA Annual Conference in New Orleans.
"Graphic novels are already one of our most heavily-used collections, so I'm very pleased that we have this opportunity to expand the library's offerings and to support veterans through our partnership with the Fine Arts Center," said Martin Garnar, dean, Kraemer Family Library. "I want to thank librarians Carlos Duarte and Joel Tonyan for taking the lead on the grant proposal – without their initiative, none of this would be possible."
The grant will help further the project "Through the Eyes of Veterans: A Community Collaboration" in partnership with the Bemis School of Art's Military Artistic Healing for Active Duty and Veterans program at the Colorado Springs Fine Arts Center. The grant will fund a series of creative workshops for veterans at UCCS and in the Colorado Springs community.
Kraemer Family Library will receive funding to expand its graphic novel collection with materials that relate to veterans and active duty military students. UCCS will also accept the Will Eisner Library, a collection of 75 books of Eisner's work and biographies, and copies of the graphic novels nominated for the annual Will Eisner Award at San Diego Comic-Con.
"In their ability to bridge educational and social divides, and with an unparalleled popularity among readers of all ages and backgrounds, graphic novels are an essential component of any modern library," said Valerie Acklin of Bellmore Memorial Library in Bellmore, New York, who served on the selection jury. "The ALA Will Eisner Graphic Novel Grants for Libraries provide the essential support to build meaningful collections and provide engaging programs that highlight the format's power to create connections between communities and cultures."
Eisner is best known as the creator of The Spirit, a comic character who first appeared in 1940, and for writing the first modern graphic novel. The Will and Ann Eisner Family Foundation fosters innovation and creativity in graphic literature, sequential art and comics. It encourages others to continue and build upon the legacy of Eisner, who broke new ground in the development of visual narrative and the language of comics.