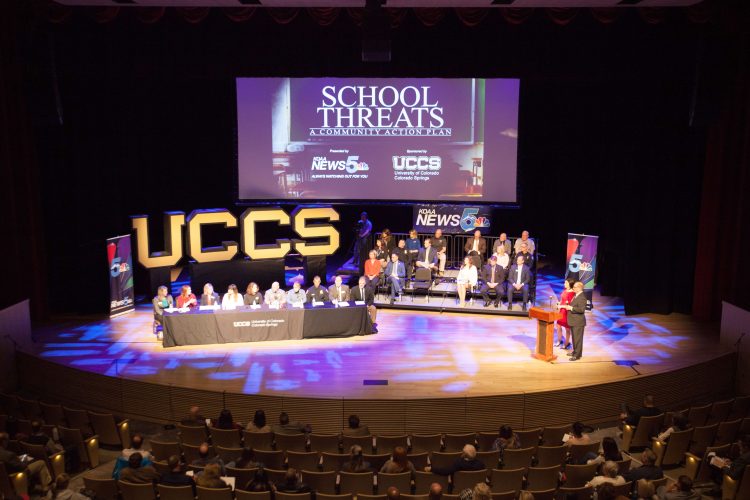 "We must actively seek solutions. We must actively seek common ground."
Those words from Chancellor Venkat Reddy began a community town hall at the Ent Center for the Arts as community members, school districts and law enforcement came together to discuss the ongoing threat of school safety March 12.
"We have more than 500 students enrolled in our undergraduate and graduate teacher education courses," Reddy said in opening remarks. "We want to send our new teachers into safe classrooms where they can do their jobs without fear."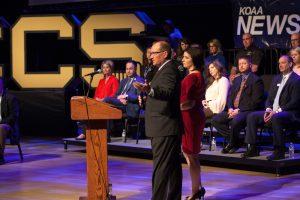 A panel of 10 individuals, representing school districts, mental health services, law enforcement and school security officials, answered a series of questions from moderators Rob Quirk and Elizabeth Watts, weeknight anchors for KOAA News 5. The first 90 minutes of the town hall included topics like how people can report threats, how threats are confirmed, how they are investigated by law enforcement, how social media has impacted reporting and rumors, and how parents can be involved in school safety. The final hour was open to audience questions, where several people asked about funding and the challenges school officials face with limited resources.
"We want our classrooms and campus to be safe for our students as well," Reddy said. "Public safety for students, educators and staff is an important issue for us and for everyone in our community. We are here today to listen with an open mind, to all ideas, all concerns and from all parts of our community."
More than 300 people attended in person and the event was covered live by KOAA on its primary and secondary over-the-air channels, and its Facebook and YouTube pages. The full town hall can be viewed on YouTube: