Random Acts of Kindness Week is back on campus Feb. 12-16.
The Dean of Students Office will set up at the Sanatorium Grounds Coffee Shop in the University Center from 11 a.m. – 2 p.m. every day.
"This is my favorite time of the year because we have a week dedicated to sharing the joy and sharing the kindness with one another," said Ray Fisco, prevention and outreach manger, Dean of Students Office. "I like to say that kindness is the social glue that connects individuals to a community. Kindness is contagious, and I really hope to see a lot of smiles and a lot of love during Random Acts of Kindness Week."
Activities for the week include: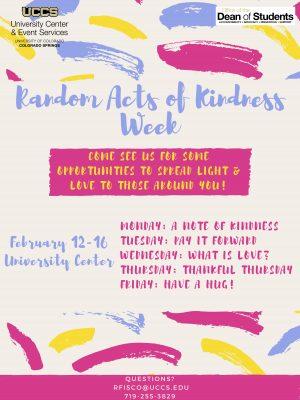 Monday, Feb. 12: A Note of Kindness
Positive Post-it note making station to add to the Pillars of Kindness in the University Center, Recreation and Wellness Center, and Housing.
Tuesday, Feb. 13: Pay it Forward
Grab an envelope with an idea on how to Pay It Forward to the campus community or to our larger Colorado Springs community.
Wednesday, Feb. 14: What is Love?
In collaboration with Respect on Campus organization, the Dean of Students Office will ask what love means to the campus and how to watch out for one another. Decorate a heart and hang it up at the University Center Information Desk, Student Life and Leadership desk, Recreation and Wellness Center Desk, or at any of the Housing Desks.
Thursday, Feb. 15: Thankful Thursday
Stop by the thank you note station to decorate and make a note to recognize and show gratitude to someone deserving.
Friday, Feb. 16: Have a Hug
The Dean of Students Office and Respect on Campus, will give out Hersey's Chocolate hugs. Students will be encouraged to share this simple act of kindness to brighten someone's day, and to make sure they ask before they hug.
For more information on the week, contact Ray Fisco at [email protected].