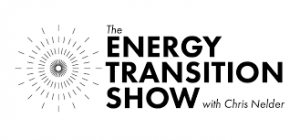 A podcast focusing on the global transition from fossil fuels to renewable energy resources will come to UCCS Feb. 13 as part of Café Scientifique.
Beginning at 6:30 p.m. at Clyde's Gastropub in the University Center, "The Energy Transition Show" with host Chris Nelder, electricity manager, Rocky Mountain Institute, and guest David Murphy, associate professor, St. Lawrence University, Canton, N.Y., will record their podcast. The show encourages audience participation as Nelder and Murphy discuss the existing power grid and the transition to renewable energy alternatives.
UCCS will be the second university to host "The Energy Transition Show," according to Devin Moeller, instructor, and Geospatial Technology Lab Director, Geography and Environmental Studies Department. The first was in November 2017 at Duke University, Durham, North Carolina.
"I expect Chris and David to touch on the principles of energy transitions, efficiency metrics and to introduce the concepts of a standardized methodology for effective comparative assessment," Moeller said. "But this event will be highly interactive with the direction of the conversation determined by audience input and feedback."
The event is free and open to faculty, staff and students. The format is informal and dedicated to general discussion among those who have an interest in science topics but who might not have specialized training or knowledge of the subject area.
Questions? Contact Moeller, [email protected], or 255-4978.  Listen to earlier "The Energy Transition Show" podcasts.