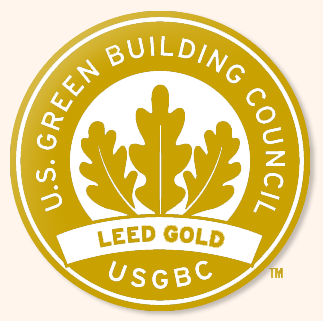 The UCCS Ent Center for the Arts recently received Leadership in Energy and Environmental Design Gold certification, becoming the tenth UCCS building to hold the coveted designation.
Campus facilities and sustainability leaders learned Jan. 25 that the Ent Center scored highly in an external review of the building and its construction. The building opened its doors to the campus Jan. 17.
"The plaque and certificates are on order," Linda Kogan, director, Sustainability Office, said. "These awards reflect the commitment of the university, and its contractors, to meet high standards with an eye to the future."
Brad Johnson, design and project manager, Facilities Services, said: "We're proud of our design and construction team's effort and dedication to meet our goal of LEED Gold. We will continue to help make this state-of-the-art facility even more sustainable and energy efficient through building operations."
In granting the gold status, reviewers cited the Ent Center's water and energy efficiency, indoor environmental quality and site improvements.
Specific examples include:
A 41 percent or 125,000-gallon annual reduction in indoor water use through the installation of efficient plumbing fixtures.
A 53 percent or 323,000-gallon annual reduction in outdoor water use through the installation of an efficient irrigation system and native plants.
A 21 percent savings in energy use following installation of high efficiency heating and cooling. Renewable energy credits will be purchased to cover two years of building electricity use.
Dedicated recycling storage for paper, cardboard, glass, plastic and metal.
An estimated 89 percent of construction waste was diverted from landfills.
Developed by the U. S. Green Building Council, LEED is the most widely used green building rating system in the world. Projects earning LEED certification earn points across several areas that address sustainability issues. Based on the number of points, a project rates as certified, silver, gold or platinum.
For more information about LEED certification, visit http://www.usgbc.org/leed or contact Kogan, [email protected] or 255-3757.
Related Posts
Photo Feature: Ent Center for the Arts opens
Photo feature: Starr Kempf sculptures at Ent Center for the Arts
— Photo by Savannah Waggoner