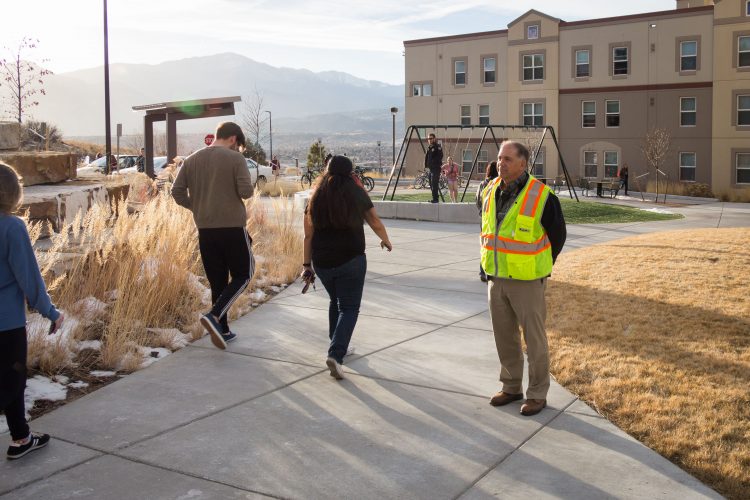 As students streamed past him following a residence hall fire drill this week, Scott Smith took stock.
As the new campus emergency manager, Smith marveled at the students' positive outlook, even as they were hustled from their rooms by blaring alarms and robotic voice commands urging them to leave the building.
"This campus has a great culture," Smith said. "Everyone seems engaged and really wants to be here. I'm glad to be part of it."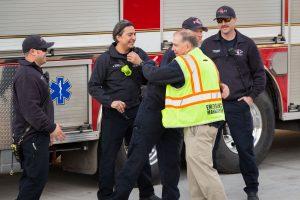 Smith joined the Department of Public Safety Jan. 15 following a regional search. He spent 36 years as a paramedic and firefighter, retiring from the Colorado Springs Fire Department as captain of station seven located on Palmer Park Boulevard. The station's crews were among the city's busiest, responding to drug overdoses, car crashes, hazardous material spills and, of course, fires. The station's crews responded to the Nov. 2015 shootings at Planned Parenthood as well as many other high-profile emergencies.
Responding to crisis was "part of the job," Smith said, but he found passion in preventing emergencies and training others to be prepared. He served two years in the City of Colorado Springs Office of Emergency Management and trained officers in firefighting techniques. He completed extensive training in the National Incident Management System, a federal protocol designed to improve inter-agency cooperation.
Smith plans to conduct a needs assessment during the spring semester and build relationships on campus. He hopes to use information from faculty and staff to develop plans for how UCCS can prepare for emergencies, building upon efforts of his predecessor, Tim Stoecklein, as well as knowledge of Colorado Springs. Stoecklein left the university last summer to work as an emergency manager for a Kansas county.
Before beginning his career as a paramedic and fire fighter, Smith earned a bachelor's degree from Southwest Texas State University. He later added a master's degree in fire service leadership from Grand Canyon University.
"I want to learn more about this campus," Smith said. "I've peeked into some of the research labs and it just makes me want to learn more about the people here and what they do. I think I'll always be a student."
— Photos by Tom Hutton