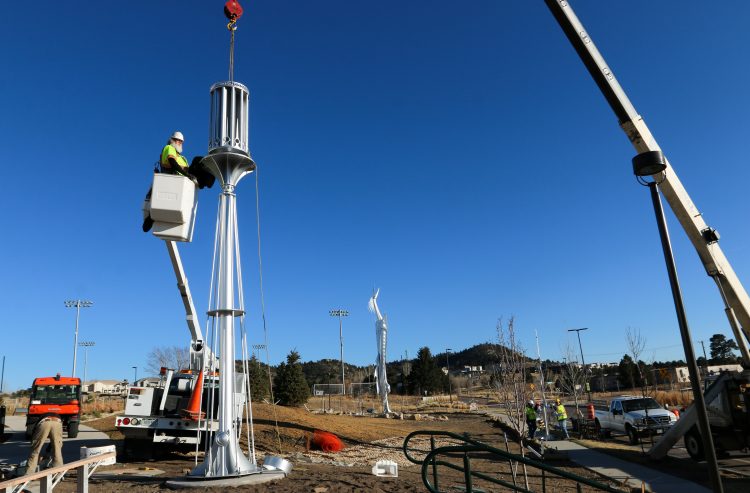 Three elaborate steel and wind kinetic structures by local artist Starr Kempf will arrive by tractor trailer and will be installed by construction cranes between 9:30 a.m. and 10:30 a.m. Dec. 18 at the UCCS Ent Center for the Arts.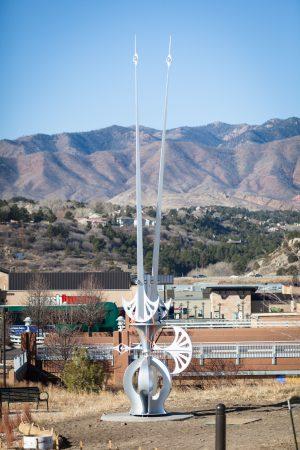 Kempf's works, as well as sculptures by Craig Colorusso, Linda Fleming and Jon Geiger, will be installed for six months to two years as part of AWOL: Art Without Limits, a new program of public sculpture and participatory art. AWOL launches a new phase of the Gallery of Contemporary Art as it moves to the Ent Center for the Arts. The Ent Center will officially open Jan. 16, 2018, with an opening gala on Feb. 3.
Daisy McGowan, art director and chief curator, Galleries of Contemporary Art, curated the program. The Bee Vradenburg Foundation for the Arts and the Marie Walsh Sharpe Art Foundation provided significant funding.
Public programs, artist residences, lectures, performances and yoga sessions are planned around the sculpture exhibits.
Starr Kempf (1917-1995) created elaborate steel wind sculptures starting in the late 1970s, each of which took him up to three years to construct. His world-renowned kinetic wind sculptures were designed to exhibit graceful movement and interaction with the wind and landscape. His work is typically in the form of birds or weather vanes, and stand thirty to fifty feet tall.
Kempf attended the Cleveland Institute of Art and served in the United States Air Force during World War II. In 1948, he and his wife, Hedwig Roelen, purchased property in Cheyenne Canyon where Starr designed and built a house and art studio. The monumental kinetic sculptures filled the yard of the property, beloved by and bedeviling the quiet surrounding neighborhood with regional, national and international attention and visitors. In 1991, Starr Kempf received a Doctor of Humane Letters degree from the University of Colorado Board of Regents.
 Working with the Kempf's grandson, Josh Kempf, GOCA will publicly display the work of Starr Kempf in Colorado Springs on the grounds of the new the Ent Center for the Arts. These futuristic monumental sculptures connect to Colorado Springs history and art historical legacy while in dialogue with the future of art in the region.
Linda Fleming, professor of fine arts and chair of the sculpture department at California College of the Arts, Oakland, California, will have a solo exhibition at GOCA's Marie Walsh Sharpe Gallery of Contemporary Art August – November 2018. Fleming is known for large-scale outdoor sculptures that draw from the desert and mountain environments surrounding her studios and as a founding member of the artist community Libre in southern Colorado.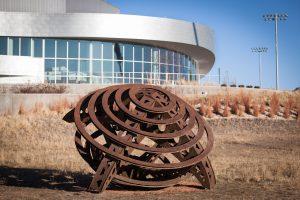 The Cloak of the Motion is a monumental, flame-cut sculpture by Fleming and was the first public work installed on the grounds of the Ent Center for the Arts. It was previously exhibited at Socrates Sculpture Park, Long Island City, New York, the New Mexico State Capital Grounds, Santa Fe, New Mexico, Laumeier Sculpture Park, Saint Louis, Missouri, and Linda Durham Contemporary Art, Galisteo, New Mexico. It will be on view at UCCS through December 2018.
Craig Colorusso is a Massachusetts-based artist whose works intersect sound, light, and sculpture. Winner of the 2014 ArtFields Prize, Colorusso has presented his inventive, participatory works across a range of sites and festivals over the past decade, after decades as a professional performing musician.
Colorusso is creating a new work, "Moon Phases." for a one-year installation, January-December 2018. The kinetic sculpture and sound art work will play music based on the fullness of the moon, beginning in silence with the new moon and slowly filling with sonic density, adding notes until at its fullest during the full moon. The artist's sun boxes will be displayed, inviting cross-disciplinary responses from a range of UCCS and community artists, dancers, performers, musicians and Yoginis. "Moon Phases" will be installed in January.
Jon Geiger is a Detroit-based artist who presented project "Roam" at three different locations across Colorado since 2016. Geiger took his cues from the iconography of the West to construct this tumbling light sculpture, a 26-foot abstracted, animated, white neon tumbleweed that consists of five neon tumbleweed structures, each illuminated individually to create a rolling movement of light. "Roam" transforms ordinary materials – steel and neon lighting – to create cinematic plays of light activating surroundings.
For Geiger, both the billboard and tumbleweed form are iconic of the American West. The artist's use of neon light directly references the American West's neon sign history as well as iconic artists who have worked in the West.
The sculpture is built to move from location to location. "Roam" triggered an array of pictorial possibilities amidst its varying locations. In Lakewood, it was on a roof on the campus of the Rocky Mountain College of Art + Design. In Greenwood Village, it was at Marjorie Park at Fiddlers Green Amphitheater on grass across a pond. In Boulder, it was displayed in the center of the city, and in Colorado Springs it will be on a hillside in front of the Ent Center for the Arts. The project is presented courtesy Black Cube and the artist. "Roam" will be exhibited January through July 2018.
— Nicole Anthony, Galleries of Contemporary Art