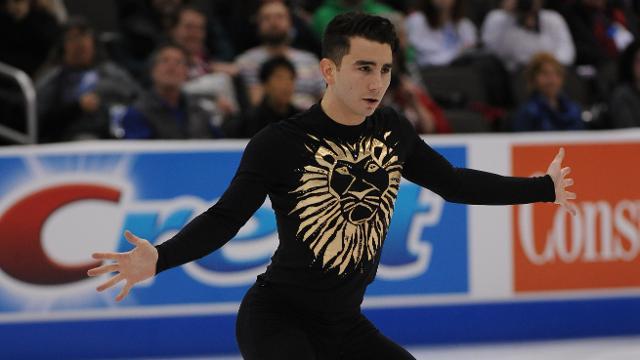 World-class figure skater and magna cum laude student Max Aaron will likely be the last person to get in line for the 2 p.m. Dec. 15 UCCS December commencement ceremony.
Aaron is demonstrating the time management skills that led him to be the U.S. National Champion, contender for the 2018 Olympic team and holder of bachelor's degree in business. He will practice his quad jumps in a back rink at the Broadmoor World Arena until the last possible minute before taking center stage with 500 other new graduates and families celebrating success.
There's a chance he might still be wearing skates as he crosses the stage to receive his diploma.
"It's a little ironic that UCCS graduation is at the World Arena," Aaron said recently. "Because when I'm not on campus, I'm on the ice there. Campus and the World Arena are where I live."
Aaron completed his bachelor's degree in three years while most students take four or more years to complete a degree. He combined studies in finance with at least five hours daily on the ice with the goal of representing the U.S. in the 2018 Winter Olympics in PyeongChang.
"One down, one to go," Aaron said of his two goals. He will compete in the U.S. Nationals in January 2018.
Aaron combined a heavy course load with five to six hours of daily training. He took early morning, evening and summer classes, approaching each with the attitude "that a B was not an option." He worked with academic advisers to help them understand the needs of top athletes who are UCCS students.
"I know skating can't last forever," the almost 25-year-old said. "When it comes time to retire, I wanted to have something that I can rely on. Studying finance was the right thing for me. When the time comes, I hope to work with professional athletes, including some of my buddies in the NHL, to help them manage their money so it can last."
About 500 new graduates and their families will receive degrees and celebrate success during the 2 p.m. ceremony. CU President Bruce Benson, members of the CU Board of Regents and 14 members of the class of 1992 will join in congratulating the graduates and the formal conferring of degrees for students who completed requirements for bachelor's, master's or doctoral degrees in August or December. Linda Hogan, a member of the UCCS class of 1973, and CU Boulder professor emerita, will deliver the commencement address.
An estimated 950 students earned degrees in August or December. About half participate in formal ceremonies. UCCS also conducts commencement ceremonies in May.