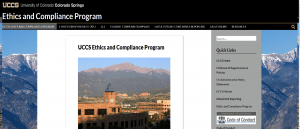 The Compliance Office recently updated a website to help faculty, staff, and students get answers to ethics and compliance questions they may face on campus.
The site, http://compliance.uccs.edu/, is designed to be a "one-stop" resource for both UCCS and CU regarding ethics, compliance, and complaint processes, according to Deborah O'Connor, director, Compliance Office.
For example, the site has a prominent link to the CU Code of Conduct which is maintained by the Office of Policy and Efficiency. That code states, "as members of the University of Colorado Community, all employees are responsible for sustaining the highest ethical standards of this institution."
The code defines responsible conduct, respect for others, conflicts of interest, research and academic integrity, stewardship of university property, contributions to a safe workplace, privacy and confidentiality, open and effective communication, and responsibilities for reporting misconduct.
The website also contains links to the UCCS Ethics and Compliance Program, designed to support a culture of ethics and compliance on campus. An effective compliance program promotes the achievement of university mission, vision, and values while encouraging an ethical culture and ensuring the university meets its regulatory obligations, O'Connor said.
Other features include the results of a first-ever survey of faculty and staff about campus ethics as well as processes for student complaints, complaints by faculty and staff, and EthicsPoint, a system that allows concerns to be voiced anonymously.
Questions? Contact O'Connor, 255-3847, [email protected] or Sarah Miller, executive assistant, University Counsel and the Vice Chancellor for Strategic Initiatives, 255-3804, [email protected].