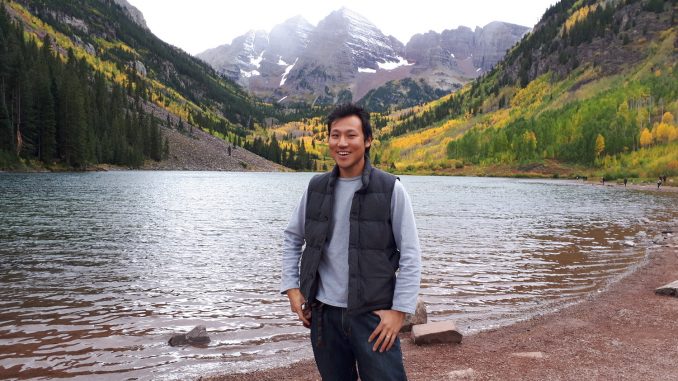 Yoshihisa Iwata, an administrator at Tokyo University of Foreign Studies, recently joined the Global Engagement Office as part of a Long-term Education Administrators Program.
LEAP aims to train early-career Japanese university administrators and is supported by The Ministry of Education, Culture, Sports, Science, and Technology. Thirteen Japanese administrators were selected to come to the United States after a one-year internship with the Japanese government. The first two months of the program in the U.S. involved intensive English training in Bozeman, Montana. LEAPers were then placed at a U.S. institution of higher education. Iwata will remain at UCCS until March and lives with his wife and young son.
"The opportunity to host a LEAPer puts UCCS on the map as having a professional international center/global engagement office, exposes our institution to university officials across Japan, and provides opportunities for our students, staff, and faculty to engage with a Japanese citizen," Mandy Hansen, director, Global Engagement Office said. "There are many U.S. institutions that compete to host LEAPers as it helps to internationalize the campus. Yoshi is not only helping in our office on projects like International Week 2017 which happens in November but is meeting with Japanese language students and taking part in class/student projects with intercultural communication students."
At Tokyo University, Iwata worked with international students attending the university and previously held positions in human resources and accounting.  It is common practice for Japanese university employees to rotate positions in order to gain understanding of the entire organization.
Iwata said he chose UCCS because of the rapid growth of the campus and relatively new Global Engagement Office.
"I felt like it would be a constantly challenging organization that was not tied to old customs," Iwata said. "I thought such an experience was important for me to learn as I can bring back new ideas and change to my university in Tokyo."
Questions? Contact Hansen, 255-7528 or [email protected]
— Photos courtesy Global Engagement Office