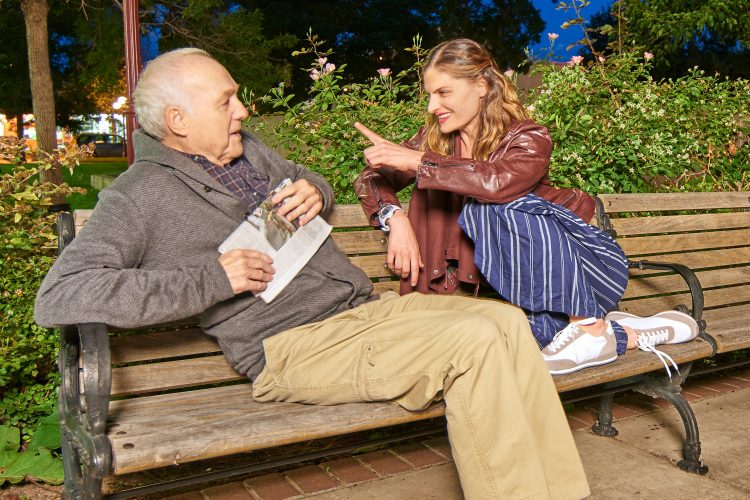 Lawrence Pressman and Prentiss Benjamin will star in UCCS Theatreworks' production of "Heisenberg" opening Sept. 7, at the Dusty Loo Bon Vivant Theater.
With more than 150 television and film credits, Pressman appeared in shows such as "Star Trek: Deep Space Nine," "Doogie Howser, M.D.," "Transparent," "Hart of Dixie," "Criminal Minds," and "Mad Men." Benjamin, who recently relocated from New York to Colorado Springs, has national theater credits including Off-Broadway and Off-Off Broadway.
Joye Cook-Levy will direct the play written by Tony Award and two-time Olivier Award winner Simon Stephens. Cook-Levy is a recent Colorado Theater Guild Henry Award nominee. The creative team for "Heisenberg" includes Erik Diaz (scenic design), Stephanie Bradley (costume design), Mike Wood (lighting design) and Glen Whitehead, associate professor, Visual and Performing Arts Department, (sound design).
"It is absolutely amazing to be sharing the rehearsal hall with Lawrence Pressman and Prentiss Benjamin," Cook-Levy said. "Their incredible experience and surplus of humanity elevates every choice in the play. It doesn't hurt that they also have a wicked sense of humor. We are so fortunate to have actors of this caliber on our stage."
In the midst of a bustling London train station, Alex Priest (Pressman) is caught off guard when a strange woman decades his junior (Georgie Burns, played by Benjamin) plants a kiss on his neck. This chance encounter sparks an unlikely relationship that brings to light the fragility and joy found in improbable moments of human connection.
In his 2015 review of the play's world premiere at Manhattan Theatre Club, Ben Brantley of The New York Times described the multifaceted relationship dynamics at play in Stephens' work: "On its surface, it's a satisfyingly sentimental, life-affirming mating dance between two people who are so utterly dissimilar that of course they are made for each other. But if you choose to tune into the quieter frequencies of 'Heisenberg,' you'll detect the presence of a probing work that considers the multiplicity of alternatives that could shape our lives at every moment."
Tickets go on sale Aug. 24 at http://www.theatreworksCS.org or through the box office at (719) 255-3232. "Heisenberg" runs Sept. 7–24 at the Dusty Loo Bon Vivant Theater at UCCS.
On Sept. 10, before the Sunday matinee, distinguished guest Arthur Strimling will deliver a lecture entitled "Heisenberg Generations" as part of the annual Prologue lecture series, co-presented by Theatreworks and the UCCS Theatre and Dance Program. A pioneer in intergenerational arts creation and the founder of Roots and Branches Theatre in New York, Strimling will illuminate issues of ageism in American theatre. The lecture is free and open to the public. Space is limited and pre-event registration is highly encouraged.
— Michelle Winchell, Theatreworks