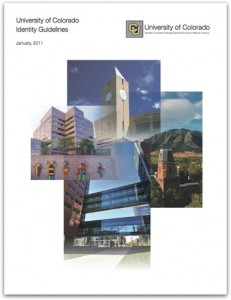 The University of Colorado's long-awaited branding project began its rollout Jan. 12 with a systemwide letter from President Bruce D. Benson promising the effort will "enhance our critical efforts to effectively engage our audiences, promote our value and attract funding."
Schools, colleges, departments and administrative units across the CU system will begin using new visual imagery and messages in all communication as soon as possible. Benson said the process will be more evolutionary than big bang, with the university making the transition over the coming year. Units are asked to use up old stationery, business cards, promotional material and apparel before ordering stock with the new visual imagery. Electronic resources such as web pages, PowerPoint templates and electronic letterhead can be changed out more quickly and at less cost.
One of the blueprints for the effort is an Identity Standards manual that details messages and visual images and their uses. Campuses are developing complementary manuals that deal with campus-specific issues. A key part of the effort will be to substantially reduce the number of individual logos at schools, colleges, departments and units. Benson said those entities will no longer use alternate logos or sub-identities except in limited cases.
Advancement to assist campus transition
University Advancement will work closely with the Office of the President and UCCS Chancellor Pam Shockley-Zalabak to develop campus-specific brand guidelines that support the broader CU branding initiative.
Martin Wood, vice chancellor, Advancement, will meet with various campus groups to explain the new CU System and UCCS guidelines and to answer questions. An all-university forum is planned in February to provide additional detail and to outline resources available to assist with the transition.
To see a detailed explanation of the branding initiative, including a video that features university and campus leaders, visit www.cu.edu/brand.
To see CU System guidelines, which will be the basis of specific UCCS guidelines, visit www.cu.edu/articles/upload/cu-branding-manual.pdf
A systemwide Brand Identity Standards Committee (with representation from campuses, system administration and the CU Foundation) will be established to guide implementation, address problems and grant any deviations from standards. Complementary campus boards also will be established.
But Benson stressed that the branding effort is about more than logos.
"It is the emotional feeling our key constituents have about CU as a result of their perceptions and interactions with us. We can help shape that feeling by being consistent in how we present ourselves with messages and visual images," he wrote.
He said the result will be a university that communicates more effectively, uses scant resources more wisely, and positions itself to be successful in a major fundraising campaign, expected to be announced later this spring.
"We are making an investment in the future of the university, and we not only expect to recoup the money we have put into this project, but also to realize a substantial return on the investment," Benson said. "Branding will allow us to be more efficient and effective in communicating to our key audiences by focusing our messages and images and cutting through the communication clutter and noise that bombard people every day."
CU presents itself to its key audiences (among them, prospective students, parents, alumni, donors, legislators, business and community leaders, and faculty, staff and students) with several hundred different and often-competing visual images and messages. With some, it is difficult to recognize that they represent CU at all. Funding is spent on design, photography, external vendors, content creation, printing, web development and a host of other communication and marketing activities. Bringing consistency and coordination to those efforts will save money and lead to a greater impact.
"We are in a competition every day at this university – for funding, attention, students, faculty – and we cannot disadvantage ourselves by presenting a fragmented view of ourselves," Benson said.
The project began nearly two years ago. An external vendor, Landor and Associates, worked with a CU team that included the president, campus chancellors, leadership of the CU Foundation and the lead communication person from each campus and system. It began with an extensive research phase, with some 12,000 quantitative surveys returned by faculty, staff, students, alumni and donors, as well as nearly 50 qualitative interviews conducted with key people inside and outside the university.
Additionally, Landor completed an assessment of how CU entities across the system present the university and also looked at several other universities and university systems in a peer analysis.
The effort led to the creation of key messages and a system of brand architecture (visual images) that gave a nod to the equity CU had built in its heritage with the interlocking CU letters, which has been updated for a more contemporary look. It also recognized the equity the Colorado Springs campus has with its historic mark with its home city and the southern part of the state.
Benson said the project aims to highlight the collective strength of CU in four primary areas of excellence and impact: learning and teaching, discovery and innovation, health and wellness, and community and culture. The "four pillars" will play a key role in CU's comprehensive fundraising campaign, he said.
— Jay Dedrick, CU System University Relations